Posted on
October 29th, 2013
by Mary Lord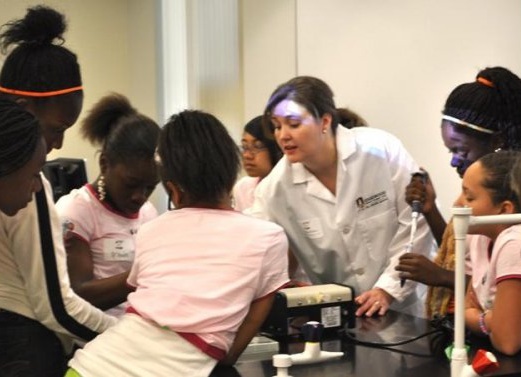 Despite a host of federal, state, and local initiatives, the number of young women pursuing STEM academic and professional careers remains stubbornly low.
Greenwich Academy, an all-girls private school in Connecticut, is harnessing the power of social media to help close that gender gap. Girls Advancing in STEM, or GAINS, aims to build a strong female STEM community by linking students from member schools with women graduates in STEM-related fields who can serve as role models and mentors.
"We need to encourage girls interested in STEM fields through interactions with female role models," said Greenwich Academy Head of School Molly King in a statement.  "Such relationships enhance self-confidence, increase awareness of career options and develop and empower female STEM leaders on a national and global scale."
Members can connect through Twitter, blog posts, online discussions, and twice-a-year virtual mentoring events. The first GAINS virtual mentoring event is being held through Nov. 15. Mentors will post on a topic related to their area of expertise or experience, with students and mentors responding with questions and comments.
In addition to Greenwich Academy, GAINS member schools include Castilleja in Palo Alto, Calif., Harpeth Hall School in Nashville, Tenn., Hathaway Brown in Cleveland, Ohio, Hockaday School in Dallas, Tex., and Marymount in New York City.
Filed under: K-12 Education News, K-12 Outreach Programs, Special Features, Web Resources
Tags: Castilleja, GAINS, Girls Advancing in STEM, Greewich Academy, Harpeth Hall School, Hathaway Brown, Hockaday School, Marymount, online STEM learning, social media, STEM education, STEM mentors