Posted on
August 14th, 2011
by Jaimie Schock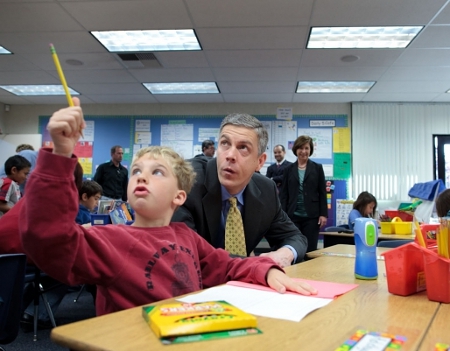 Arne Duncan sits with a student during a classroom visit.
States will soon be able to opt out of No Child Left Behind though qualifying for special waivers offered by the Obama Administration. Citing a failure by Congress to make any progress on reforming the controversial legislation before the upcoming school year, the Department of Education will offer waivers to all 50 states, which will be expected to meet certain criteria in order to receive them.
Those states qualifying for the waivers will not have to meet the 2014 deadline that requires 100 percent proficiency on standardized tests in reading and math. At present, 80 percent of all U.S. schools would fail this requirement, according to Bloomberg—one major reason why Education Secretary Arne Duncan opposes the legislation in its current form.
In a direct use of executive power, the waivers are being offered in response to what Duncan calls "outcry" from states over unrealistic expectations and an over-emphasis on standardized testing. States applying will be expected to raise academic standards and evaluate teacher effectiveness based on student achievement, along with other unspecified measures. More details are expected in September.
Filed under: K-12 Education News
Tags: Education Policy, No Child Left Behind, Public Policy, U. S. Department of Education