Posted on
January 25th, 2010
by Jaimie Schock
Last week, 40 states and the District of Columbia applied for the $4.35 billion Race to the Top competition. The Obama Administration's pet education program, the competition will award grants to states that overhaul and upgrade their schools systems to encourage more classroom innovation. It gives priority to those states whose reforms emphasize STEM education.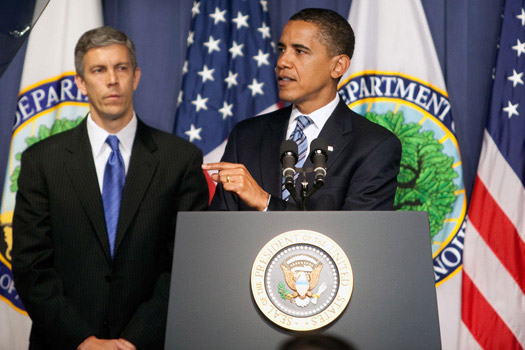 President Barack Obama delivers remarks on "Race To the Top" at the Department of Education with Secretary of Education Arne Duncan. Official White House Photo by Lawrence Jackson.
Moreover, as the New York Times reported, even without so far spending a dollar, the competition has pushed many states to make needed and welcome changes. The billions in grant money will be doled out in two rounds.
On the eve of the application deadline, President Obama and Education Secretary Arne Duncan visited the Graham Road Elementary School in Virginia's Fairfax County, according to the Falls Church News-Press. It's become one of the state's highest-achieving schools despite it's low-income student body. One-hundred percent of its 6th graders met Virginia's reading standards, and 96 percent met its math standards. That's an outcome credited to the kind of innovative teaching methods the competition hopes to engender.
The president used his visit to the school to announce plans to ask Congress for an additional $1.35 billion to expand the competition to a third round, and to let school districts apply for the grants, even if their states have opted not to compete.
Filed under: K-12 Education News
Tags: Competition, Education Policy, Grant Opportunities, School Budgets