Posted on
January 23rd, 2011
by ASEE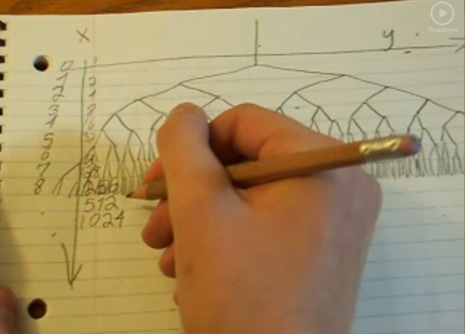 Vi Hart has an audacious career ambition: she wants to make math cool. In November, the New York Times reports, she posted a video about doodling in math class. More videos followed, including one about drawing stars and another about prime numbers ("Remember, we use prime numbers to talk to aliens. I'm not making this up.") By now, the videos have gone viral, viewed more than a million times.
Hart's fascination with mathematics might seem odd. She graduated two years ago from Stony Brook University with a degree in music, and she never took a math course in college. But she attended math conferences and collaborated on a number of papers with Erik D. Demaine, an MIT professor best known for his origami creations.
The intertwining of art and math seems to be the family business. Her father, George W. Hart, builds sculptures based on geometric forms and is now chief of content for the Museum of Mathematics, which is looking to open in Manhattan next year.
The attention to Hart's videos has drawn job offers and a small income from advertising revenue. She's happy that the biggest demographic for her new videos, at least among registered users, are teenage girls. "I just think that's really awesome," she says, "because you've got girls in middle school and high school who are suddenly enjoy mathematics and enjoying being a little nerdy and smart, and we need that."
Some of Heart's activities: Mathematical Food and Balloon Twisting.
[youtube]http://www.youtube.com/watch?v=heKK95DAKms[/youtube]
Filed under: K-12 Education News
Tags: Girls Education, Math, Mathematics, Programs for Girls, Videos