Posted on
November 28th, 2016
by Mary Lord

From the air or highway, America's fruited plains present a uniform vista of vast abundance. Not to Amy Kaleita. The associate professor of agricultural and biosystems engineering at Iowa State University sees a "nonlinear, somewhat chaotic" array of micro-plots, each with unique hydrology, root depths, soil characteristics – and ripe opportunities for smart technology to enhance both sustainability and food production.
"Precision conservation," Kaleita's research field, piggybacks on the precision farming that GPS-equipped combines launched in the 1990s. Beyond optimizing crop yields, she seeks to "maximize the agricultural impact by treating the soil differently," applying data on erosion, fertilizer runoff, and other environmental factors to better manage land.
In her dream scenario, outlined in a 2013 Gilbreth Lecture at the National Academy of Engineering, temperature and water sensors in the soil would help customize seed depth; aerial drones and satellite imagery would monitor growth; and future plantings would be adjusted to cut chemical use. Faster, cheaper technologies – like tracking plant nutrients with a smartphone, a project of her Spatial Data Analysis Lab – can improve such time-tested techniques as crop rotation and pairing. The result: bigger harvests with a smaller environmental impact.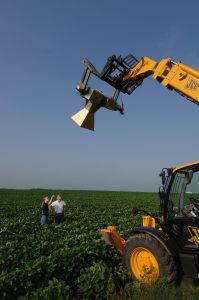 Kaleita didn't grow up on a farm and hadn't heard of agricultural engineering until arriving at Penn State University interested in biomedical engineering but finding no major. Attracted by the chance to take microbiology as an elective. she "got hooked on the idea that food and the environment are just as fundamental as health care. That satisfied my desire to contribute to society" and led to a Ph.D. from the University of Illinois.
Kaleita's own "big learning curve" in agriculture helped her become an award-winning teacher of conservation engineering and soil and water conservation management, "because I know how hard it is to learn something so foreign." For example, she developed a hands-on way for students to learn about the impact of rain and erosion on soil using an augmented reality sandbox – shown in this video.) In turn, her research – from climate change to assessment of agricultural engineering programs – benefits from her students' fresh perspective. "There's a highway of learning that runs both directions," says Kaleita. And it runs through fertile engineering ground.
This profile originally ran in 20 Under 40, a special report on engineering education's rising young stars that appeared in the September 2014 issue of ASEE's Prism magazine.
Filed under: Special Features
Tags: Agricultural Engineering, Amy Kaleita, Environmental Engineering, farming, Iowa State University, micro, micro-plots, precision conservation, sensors