Posted on
February 16th, 2017
by Mary Lord
No two snowflakes are alike, right?
We know how widely each frosty crystal can vary thanks to a Jericho, Vermont, farm boy named Wilson A. Bentley, a.k.a. "Snowflake" Bentley.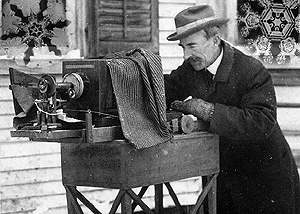 Born in 1865, Bentley was fascinated by the natural world as a boy, keeping daily records of the weather and studying butterflies. But snowflakes were his passion. At age 15, he received a microscope for his birthday. He figured out how to adapt it to a camera, engineering an instrument to examine and capture each flake on film. After much trial and error, in 1885 became the first person to photograph a single snowflake – a pursuit he would continue over the course of four decades, capturing some 5,000 images.
In 1904, Bentley wrote to the Smithsonian's Secretary about his work. He sent 500 prints in the hope they might be of interest. These images are now part of the Smithsonian Institution Archives. A 1931 book, Snow Crystals, contains more than 2,400 of his snowflake images.
Bentley, who died in Jericho in 1931 after catching pneumonia from walking through a blizzard, shored up the belief that every snowflake is unique and fueled scientific studies along with popular imagination.
Today, National Science Foundation-funded engineers and atmospheric scientists at the University of Utah using a multi-angle hgh-speed camera are capturing images of snow as it freezes and falls in exquisite detail, providing new insights on the science of snow and road safety.
Click HERE to view Bentley's photographs at the Smithsonian.
Click HERE for the Smithsonian's snowflake shape and classfication activity.
Click HERE for the Smithsonian's Wilson "Snowflake" Bentley primary sources in the classroom activity.
Filed under: Class Activities, Special Features
Tags: Environmental Engineering, Environmental science, Science of Snow, Smithsonian, snowflake, University of Utah, Web Resources, William Snowflake Bentley