Posted on
July 17th, 2011
by Mary Lord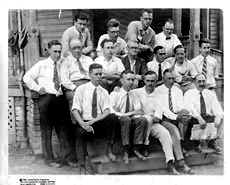 Look what turned up in the "nation's attic." The Smithsonian Institution has released 25 photos of scientists from the 1925 "monkey trial," more formally known as the State of Tennessee v. John Thomas Scopes, USA Today's science fair blog reported (7/8).
The scientists and science reporters in the images were supporters of the defense of Scopes, who was convicted of violating a state law against teaching evolution to schoolchildren. The case set the stage for the decades-long fight over teaching evolution in U.S. schools.
"Most of these Science Service collection photographs—both the images documenting the trial and the newly added witness portraits—were taken by Watson Davis, managing editor of the syndicated news service Science Service, while he was in Dayton, Tenn., June 4–5, 1925, and July 10–22, 1925," says a Smithsonian Archives statement.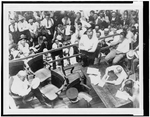 The trial itself was a publicity stunt for Dayton, Tenn., detailed in Edward Larson's book, Summer For The Gods: The Scopes Trial And America's Continuing Debate Over Science And Religion. The clash between Scopes' lawyer, Clarence Darrow, and prosecutor Williams Jennings Bryan was called the "Trial of the Century" and served as the inspiration for the play and movie, Inherit The Wind.
Filed under: K-12 Education News
Tags: History, Museums, Scientists, Scopes Trial, Smithsonian