Posted on
December 12th, 2016
by Mary Lord

What do spoken-word poetry, engineering, and video contests have in common?
Plenty if you're Nehemiah J. Mabry, a structural engineer, educator, and entrepreneur from North Carolina who took home this year's grand prize in the National Academy of Engineering's Engineering for You (E4U) video contest with an on-screen recitation of his slam poem, "Future Cities with Intelligent Infrastructure."
Wouldn't it be cool if our buildings and bridges/Had nervous systems like we do? the poem asks, launching into a riff about sensors that can monitor the health of structures and help prevent disaster.
"I've always had eclectic interests," says Mabry, explaining how a lifelong Southerner who holds a Ph.D. in structural engineering and mechanics from North Carolina State University; a B.S. and M.S. in civil engineering from University of Alabama, Huntsville; and a B.S. in applied mathematics from Oakwood University in Huntsville is an equally accomplished performer and multimedia producer.
All through his schooling, Mabry never wavered from his ambition to be an engineer. At the same time, however, he nurtured his love for performing by singing in choirs, playing bass guitar, and directing improv and drama groups. He's also been a slam poet since middle school.
"I decided to try as best as possible to blend my two worlds, because for me, I always looked at engineering through a lens of creativity and art, and vice-versa." Mabry wants to use this creativity to connect with students, encouraging them—especially women and underrepresented minorities—not to give up on the subject.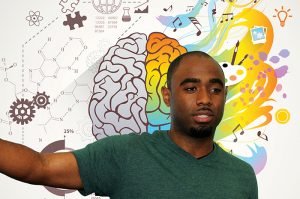 Mabry drew national attention for his video for the "Engineering: Stay With It," campaign in 2012 that Intel, MTV, Facebook, and Google kicked off in 2012  to combat high attrition rates. His multimedia company, STEMedia, produces podcasts for the National Association of Black Engineers, among other groups, as well as K-12 STEM workshops and STEM poetry competitions held at NC State in partnership with NSBE and the university's Minority Engineering Programs Office. Mabry continues to write and perform poetry that contains mathematical and engineering wordplay throughout, combining technical know-how with emotional appeals to tired students.
"We're building an audience…and it's starting to get a little more notice now," says Mabry, who works full time as a bridge design engineers at Simpson Engineers and Associates in Cary, N.C. NAE's $25,000 grand prize and additional $5,000 "people's choice" winnings will go to the company.
Mabry plans to continue highlighting sensors, infrastructure, and engineering on YouTube and social media in hopes of grabbing the fleeting interest of young people. His website quotes some staggering statistics: "six out of the top 10 influencers for 13-18 year-olds are YouTube stars." With that kind of influence, perhaps Mabry is onto something.
This blog post was adapted from Sensor Sensation, a profile of Nehemiah J. Mabry that appeared in the November 2016 issue of ASEE's Prism magazine. Read the full article by Prism associate editor Jenn Pocock HERE.
Filed under: K-12 Outreach Programs, Special Features
Tags: Engineering4U, multimedia, National Academy of Engineering, Nehemiah J. Mabry, slap poetry, STEM education, Video contest