Posted on
May 30th, 2014
by Mary Lord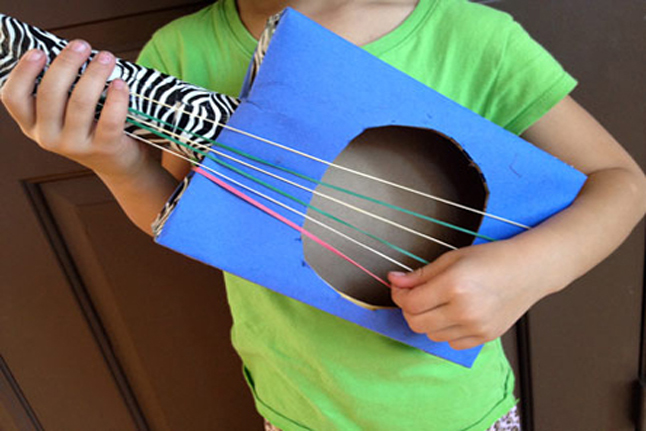 Photo from PBS Parents' Crafts for Kids.
Activity from Teachengineering.org, contributed by the Integrated Teaching and Learning Program, College of Engineering, University of Colorado at Boulder. See The Energy of Music and Making Music for the complete  lesson plan and other activities about sound and music engineering.
Grade level: 3-5
Time: 30 minutes
Summary
Students in grades 3 – 5 work with partners to investigate sound frequencies and acoustic engineering by creating four different instruments – a shoebox guitar, water-glass xylophone, straw panpipe, and soda bottle organ.  Teams can choose to make one instrument or all four!
Engineering connection
Acoustic engineers help design effective auditoriums (and other spaces) so that everyone in the audience can hear the music that is being produced on stage. To do that, they must understand music and the frequencies at which different notes are formed.
Learning objectives
After this activity, students should be able to:
Explain that high frequencies produce high-pitched sounds, and low frequencies produce low-pitched sounds.
Understand the connection between sound waves and frequency.
Standards
International Technology and Engineering Educators Association
D. Tools, materials, and skills are used to make things and carry out tasks.
C. Various relationships exist between technology and other fields of study.
Next Generation Science Standards
Develop a model of waves to describe patterns in terms of amplitude and wavelength and that waves can cause objects to move. (Grade 4)
Introduction/Motivation
Now that we have learned about frequency and how different notes have different frequencies, it's time for you to create your own musical instruments. Remember, sound is energy that moves through a medium (for example, air) in a wave pattern. While you are making them, I want you to think about the different frequencies your instrument is creating. The frequency of a sound is directly related to its pitch. That is, the more waves per second hitting your ear, the higher in pitch the tone is, and subsequently, the smaller the wavelength. Ask yourself if the sounds your instrument makes have high or low frequencies. And, make sure to check out some of the other instruments – they all are going to sound a little different! See if you can figure out what some of the differences are. Furthermore, note that some instruments are louder (higher amplitude) because they can compress the air to a greater extent.
And, one more thing you should know before you begin: Sometimes, when we hear a noise, it sounds really good to our ears, like beautiful music. Other times, it sounds like a horrible noise. The sound waves for a pleasant sound and a noisy sound look very different – does anyone have an idea about how they might look? The pleasant sound wave is very smooth, like this (draw it on the board) while the noisy sound wave is rough, like this (draw it on the board). The noisy wave actually looks noisy, doesn't it? (see Figure 1 for these two waves.)

Illustration of timbre. Copyright © 2005 Chris Yakacki, ITL Program, University of Colorado Boulder
Note: Each of the four instruments requires a different set of materials. Student teams may make one type of instrument, or each student can make all four, depending on your available time and budget. These instruments were selected because they can make notes of different pitches (frequencies) and most should be ready to play in about 5-10 minutes if all the supplies are available.
Water-Glass Xylophone:
Straw Panpipe:
Bottle Organ:
Shoe Box Guitar:
Filed under: Class Activities, Grades K-5, Grades K-5, Lesson Plans
Tags: acoustic engineering, build, Class Activities, Design, frequency, Grades K-5, guitar, hands-on activities, instrument, Music engineering, noise, sound, waves, xylophone