Posted on
November 29th, 2010
by ASEE
Level: K-12. Separate challenges for elementary, middle, and high school. Applications accepted: August 31, 2010 through March 15, 2011. Deadline: March 15, 2011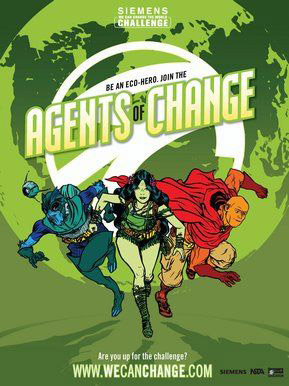 Siemens 2011
We Can Change the World Challenge
As citizens and future stewards of our planet, today's students are in a unique position to become active agents of environmental change. The good news is that many are very interested in learning about and taking responsibility for their environment and their future.
The Siemens We Can Change the World Challenge gives students the opportunity, tools and inspiration to become those agents of change. Through March 15, 2011, elementary, middle, and high school classes across the country will be challenged to create sustainable, reproducible environmental improvements in their classroom or school. Top prizes will include a chance to appear on TV, a grant for the sponsoring school, a trip to New York City for the teacher, and more.
The purpose of the Siemens We Can Change the World Challenge is to:
engage students in identifying and solving local environmental problems
utilize their creativity
involve their community
recommend how others could use this solution in their communities
Challenge Description
The Siemens We Can Change the World Challenge consists of six easy steps:
Step 1: Choose It! Student teams of 2-3 conduct research to learn about the issues that affect their community and select one issue that they truly want to impact.
Step 2: Research It! Students access a variety of resources to learn all they can about their issue and develop a problem statement that explains why and how it is a problem in their community.
Step 3: Plan It! Students propose a feasible, measurable solution to positively impact their issue and an action plan to help them carry it out.
Step 4: Do It! Students work together to implement their action plan.
Step 5: Analyze It! Students explain what they've found out so far.
Step 6: Share It! Students make recommendations for how their plan can be replicated or expanded in similar communities across the nation.
Teams should consist of a teacher or other adult mentor and two, three, or four students. The mentor can enter multiple teams into the Challenge, but each team should have its own unique solution and results, and may choose to work on different local environmental problems.
Please see the Website for  specific instructions, rules and guidelines, resources, and information about past winners.
Suggested Timeline
Overall, the project should take between 9 to 13 weeks to complete. It involves researching, planning ,and carrying out a course of action that will make a positive environmental change in your community.
Another resource from the Siemens Foundation and Discovery Education, is Siemens Science Day. Teachers can find videos, tools, and hands-on activities to help reinvent their science class.
Filed under: Grades 6-8, Grades K-5, K-12 Outreach Programs
Tags: Competitions for Students, Environmental Engineering, Grades 6-8, Grades K-5