Posted on
March 22nd, 2010
by Jaimie Schock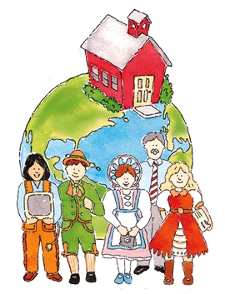 Global SchoolNet, a non-profit organization founded in 1984, supports 21st century learning and aims to improve academic performance through content driven collaboration. It engages teachers and K-12 students in meaningful project learning exchanges worldwide and helps them to develop science, math, literacy and communication skills, foster teamwork, civic responsibility and collaboration, encourage workforce preparedness and create multi-cultural understanding.
Global SchoolNet's goal is to prepare youth for full participation as productive and effective citizens in an increasingly global economy. It produces  interactive, collaborative content and tools that are web-based or on CD-ROM, officers consulting services to schools, universities, businesses and government organizations, provides professional development and training materials focused on successful implementation of collaborative learning, and creates informative conference keynote presentations and workshops for public and private school districts internationally.
The website also features a media library with videos, photos and podcasts.
Filed under: Web Resources
Tags: Internet, Internet Resources, PBL, Project Based Learning, Resources for Teachers, Teacher Resources, Web Resources