Posted on
October 26th, 2010
by Jaimie Schock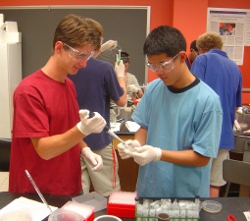 The Center for Excellence in Education, which works to improve science education and foster scientific understanding, sponsors the Research Science Institute (RSI), the National Lab Skills Initiative (NLSI), and the USA Biology Olympiad (USABO). The organization is a strong advocate for gifted education and contributes to the national debate on education reform. The Center actively supports developing scholars through its programs for high school through post-graduate students.
National Lab Skills Initiative
Secondary school teachers of biology are invited to participate in the Center's new National Lab Skills Initiative. The NLSI has three components: a Clearinghouse of laboratory-based programming by state, teacher to teacher mentorship, and laboratory experiments used by exemplary teachers will be made available online. The Center plans to roll out the National Lab Skills Initiative in 8-11 states, beginning with Virginia and Indiana, before national replication.
The Center is identifying teachers who have "tried and true" lab-based activities that they have either found with copyright or have developed themselves. Activities are hands-on, sustainable, cost-effective, assessed, and replicable, which could include public/private partnerships within their community. Exemplary teachers are invited to provide an activity for incorporation on the pilot site of the NLSI, housed on the NSF-funded Science Education Resource Center (SERC) site at Carleton College. Projects and programs displayed in the Clearinghouse will exhibit virtual and/or hands-on laboratory models.
In order to submit a laboratory activity and/or to provide laboratory programs for the Clearinghouse, contact Gillian Goldmark, National Lab Skills Initiative Manager, at ggoldmark@cee.org.
Research Science Institute

Each summer, 80 highly accomplished high school students gather at the Massachusetts Institute of Technology for the Research Science Institute. Invited students participate a six-week, cost-free program designed to kick-start their careers of leadership in science, mathematics, engineering, and technology.
Participants experience the entire research cycle from start to finish, reading the current literature in their field, drafting and executing a detailed research plan, and delivering conference-style oral and written reports on their findings. RSI projects are designed as open-ended and relevant, fitting into the larger work of the host laboratory.
USA Biology Olympiad
The USA Biology Olympiad involves nearly 10,000 students annually. It provides the motivation, curricular resources, and skills training to take them beyond their classroom experience to the level of international competitiveness.
After two rounds of challenging exams, 20 Finalists are invited to a residential training program where they learn advanced biological concepts and exacting lab skills at Purdue University. Ultimately, four students with the top theoretical and practical scores are selected to represent the USA at the International Biology Olympiad (IBO), a worldwide competition involving student teams from roughly sixty countries.
Since the Center began administering the USABO, every member of "Team USA" has received a medal at the IBO. The next IBO will be held in Taipei, Taiwan July 10 to 17, 2011.
The Center also hosts Capitol Hill luncheons, a recruitment reception, webcasts, science-related movies, and more.
Filed under: For Teachers, Grades 6-8, Grades 9-12, Grades K-5, K-12 Outreach Programs, Web Resources
Tags: Biology, Competition, Competitions for Students, Events, Organizations, Programs for Students, Programs for Teachers, Summer Camps & Programs (Students)