Posted on
August 30th, 2010
by Jaimie Schock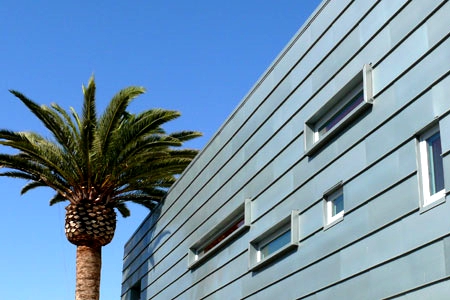 RFKCommunitySchools.org
The country's most expensive public school ever opens its doors next month in Los Angeles. How big was the price tag for the Robert F. Kennedy Community Schools? An eye-popping $578 million, according to the Associated Press. It's built on the remains of the old Ambassador Hotel, where RFK was assassinated in 1968, and it will accommodate 4,200 K-12 students.
It boasts art murals, a state-of-the-art swimming pool, and a lovely public park that features talking benches, the AP says. The school tops the list of dozens of so-called Taj Mahal schools — those costing more than $100 million each and all featuring cool architecture and luxury amenities — built across the U.S. in recent years. L.A.'s Unified School District has two others: the two-year-old, $377 million Edward R. Roybal Learning center, and the year-old, $232 million Visual and Performing Arts High School. Meanwhile, L.A.'s schools are in tough shape: 3,000 teachers were laid off over the last two years; the academic year and programs have been reduced; and it faces a $640 million budget shortfall. Critics include the group Parent Revolution, which tells the AP that fancy, costly schools are waste of tax dollars in a district grappling with a 50 percent dropout rate.
District officials tell the wire service that the schools were green-lighted well before the economic downturn, and were funded by money from $20 billion in voter-approved bonds, so they don't affect the district's budget. Nevertheless, officials say, the RFK school will be the last of L.A.'s Taj Mahals.
Filed under: K-12 Education News
Tags: education firsts, Education Policy