Posted on
April 20th, 2017
by Mary Lord
Want to get your students excited about learning? Integrate authentic, hands-on engineering activities and projects into your curriculum!
Whether you seek fun, immediately useful ways to enrich your STEM, literacy, or art classes, or opportunities to network and learn alongside STEM teachers and engineering faculty from across the country, the American Society for Engineering Education's annual PreK-12 Workshop is the place to be!
WHERE: Columbus Convention Center, Columbus, Ohio
WHEN: Saturday, June 24, 2017
8:00 am – 5:00 pm 
Certificate of completion will be provided at the end of the workshop (for continuing education credits).
All attending PreK-12 Teachers will receive a complimentary pass to ASEE's Annual Conference & Exposition on Sunday, June 25 – including a workshop on Teaching Engineering through Making!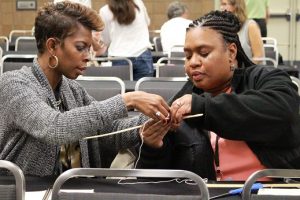 New this year! Join us for a family engineering event at Ohio State University.
Back by popular demand: The PreK-12 Curriculum Showcase – All educators are invited to share their original ideas and innovative models that show how they integrate engineering and STEM.
Log into your account now and REGISTER NOW! If you don't have an account, sign up to create your username and password. Once logged in, click "Upcoming Workshops" and begin your registration!
Registration Rates
PreK-12 Teacher ASEE member: $35
PreK-12 Teacher non-ASEE member: $75
Non-teacher member and Non-members + One year PreK-12 ASEE Membership & Precollege Division membership: $125
Sessions include:
Seeds of STEM: A problem-based curriculum for early childhood education classrooms presented by Worcester Polytechnic Institute;
Code & Chords, St. Thomas University's coding and music tech activity based on a summer camp  for middle and high school students;
West Point's Harnessing the Wind;
Boise State's interactive classroom experiences that promote success in first-year college engineering courses.
Click HERE for the program schedule. (Enter Saturday, June 24 as date to see individual sessions.)
For more information, contact Lisa J. Jennings, Manager, PreK-12 Activities at prek12workshop@asee.org.
Photos of 2016 PreK-12 Workshop in New Orleans by ASEE's Michelle Bersabal
Filed under: For Teachers, Grades 6-8, Grades 9-12, Grades K-5, K-12 Outreach Programs, Special Features
Tags: ASEE PreK-12 Engineering Education Workshop 2017, Columbus, Professional Development, Research on Learning, Teacher Resources, Teacher Training