Posted on
July 31st, 2011
by Mary Lord
(Lesson courtesy of PBS's Design Squad Nation. Illustrations by Marty Smith.)

Summary:
In this lesson, student teams in grades 3 – 12 will explore the engineering design process by building a device that can launch a ping-pong ball high enough for them to catch it.
Learning Objectives:
After this activity,  students will understand how levers convert a small motion into a large motion, and how engineers consider resource constraints and the laws of physics when developing and improving their designs.
Standards:
ITEA National Study of Technology Standards
The Nature of Technology (1,2)
Design (9, 10)
Abilities for a Technological World (11, 12)
Common Core State Standards, Mathematics
11. Understand and apply the Law of Sines and the Law of Cosines to find unknown measurements in right and non-right triangles (e.g., surveying problems, resultant forces). (Grades 9 – 12)
Multiply a vector (regarded as a matrix with one column) by a matrix of suitable dimensions to produce another vector. Work with matrices as transformations of vectors. (Grades 9 – 12)
Massachusetts Science and Technology/Engineering Curriculum Frameworks
Materials and Tools 1.1, 1.2 (grades 3 – 5)
Physical Science 4, 5 (grades 3-5)
Engineering Design 2.1 -2.4 (grades  6-8)
Physical Science 13 (grades 6-8)
Activity
Grade Level: 3 – 12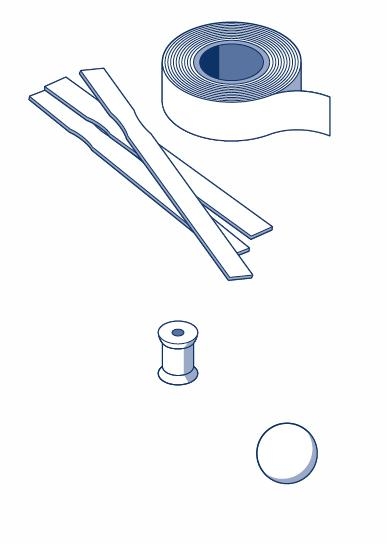 Time: 30 minutes to 1 hour
Materials: (per team)

Duct tape
3 -5 paint stirrers
1 Ping-Pong ball
1 wooden block or spool
3 oz.-paper cups (for redesign)
Introduce the Challenge
Ask students to make something that launchs a ball high enough for them to catch it, using the materials and their feet.
BUILD
Have them think of different ways to put it all together and get that ball flying!

TEST
How high did it go? Did it fly high and straight enough for you to catch? Could the tallest teammate catch it?
REDESIGN
Even the best inventions can be improved. Now that the ball can fly through the air with the greatest of ease, challenge students to:
send the ball twice as high
pop up a tennis ball
pop up two balls at once
launch a ball for a partner to catch

INSIDE THE ENGINEERING
Levers, levers, everywhere.
Levers make work easier by converting a little effort into a lot of force (like a hammer) or by converting a little movement into a large movement (like a broom or golf club). And who doesn't want to get more done with less effort? Baseball players use a lever every time they are up at bat. When you swing a bat, you move the part you're holding just a little bit. But the other end of the bat moves a lot! The same with the flippers on pinball machines—a little flick sends the ball flying. A see—saw is a big lever, though you'd need a lot of force to send someone flying! And hundreds of years ago, soldiers hurled heavy stones using catapults, which use a lever system to send the rocks flying.  Ping—Pong balls are much more civilized!


Need visuals? See how educators worked the Pop Fly challenge with master teacher-mentor Erich Landstrom as a part of a Teacher Share-A-Thon at the SECME Summer Institute at the 2011 University of Alabama in Tuscaloosa:
[youtube]http://www.youtube.com/watch?v=5hSJuVVNi-U[/youtube]
and here:
[youtube]http://www.youtube.com/watch?v=W2neTNFBe4o[/youtube]
Related video:

DIY Pop Fly– Adam and Judy try the activity in a short video. –2:07
The teams build indestructible, remote-controlled, flying football targets for NERF toymaker, Hasbro.
Curtis Cruz and Becky O'Hara, 25-year-old engineers for Rawlings Sporting Goods, have a dream job that combines their passion for baseball with their love of math and science.
See the relationship between force and distance in a lever. —0:24
Extensions:
For younger students — Encourage a group brainstorm. Ask what kinds of levers they're familiar with—seesaws, baseball bats etc. Younger kids might have difficulty tearing duct tape, have pre-cut pieces ready ahead of time. Consider limiting materials to one paint stirrer, one cup and one spool.
For older students — Challenge them to create an accurate Pop Fly, and aim for a target. Or challenge them to create 3 different designs, including one foot-launched Pop Fly and one hand-launched version.
updated 10/17/17 
Filed under: Class Activities, Grades 6-8, Grades 9-12, Grades K-5, Lesson Plans
Tags: baseball, Design Squad, Energy, Engineering Design, force, levers, motion, Physics, simple machines