Posted on
April 16th, 2013
by Mary Lord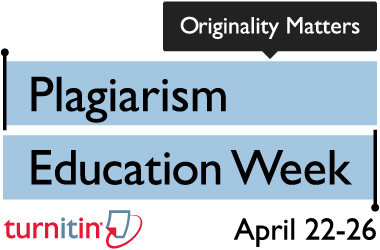 Passing off other people's work as if it were your own is one of the worst forms of academic cheating. Despite discussing plagiarism at the beginning of the semester and reminders throughout the class, students don't always get the message.
Plagiarism Education Week – April 22 – 26 – was started to help teachers help students to understand that Originality Matters. How do we engage students in thinking critically about conducting better online research, using sources appropriately, and doing work that reflects their original thought? During this week, Turnitin, a plagiarism-detection software provider, is partnering with The International Center for Academic Integrity (ICAI), The School for Ethical Education (SEE), and Plagiarism Today to present a series of free, live webcasts that delve into key issues each day of the week. Presentations include an exploration of why students cheat and responses to plagiarism.
Of course Originality Matters to students as well—and Plagiarism.org will be highlighting some excellent new resources for students to learn about plagiarism and citation. They will also be holding a student poster contest around the theme of "Originality Matters." The deadline for submission is April 23.
Filed under: For Teachers, Special Features, Web Resources
Tags: Competitions for Students, National Plagiarism Week, orginiality, plagiarism, Teacher Resources, Teacher Training, Teachers, Webinar