Posted on
March 17th, 2010
by ASEE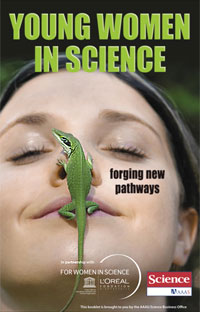 The 2009 Young Women in Science booklet is produced by Science/AAAS in collaboration with the L'Oréal Corporate Foundation.  The downloadable pdf 2009 booklet features profiles of  young women at the start of their science careers, telling their stories of passion and persistence—what drives and excites them about their work in the sciences. Young girls, boys, and educators will find fun and inspiration in these pages and learn a little about life as a scientist.
Just a few of the profiles: Unlocking Nutrition's Cancer-Prevention Potential, From Math Geek to Malaria Genetics, Believing in the Environment, Virus Crime Scene Investigator, and Folk Medicine for the 21st Century.
Please go to the AAAS Website to download all, or parts of the booklet.
Filed under: Web Resources
Tags: AAAS, American Association for the Advancement of Science, Booklet, Programs for Girls, UNESCO, Women in Engineering, Women in Science