Posted on
May 3rd, 2010
by Jaimie Schock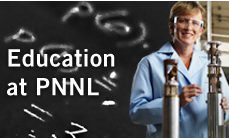 Pacific Northwest National Laboratory in Washington state is a collaborator to the Department of Energy's Workforce Development for Teachers and Scientists (DOE-WDTS) program and local efforts to improve science and engineering education. PNNL is committed to supporting science and engineering education at all levels. Science and engineering education at the lab connects the worlds of research and education by linking academic learning to the world beyond the classroom and providing a forum for learning about important science issues.
PNNL offers scholarships, internships, job shadowing opportunities, research apprenticeships, a program for young women, undergraduate and graduate fellowships, lesson plans, professional development programs for teachers, online resources, an equipment gift and loan program, and more. PNNL specializes in both renewable energy and counter-terrorism research.
Read more about PNNL and other National Labs and their outreach to K-12 education in this special feature article.
Filed under: For Teachers, Grades 6-8, Grades 9-12, Grades K-5, K-12 Outreach Programs, Web Resources
Tags: Internet Resources, National Laboratories, U.S. Department of Energy, Web Resources