Posted on
May 10th, 2010
by ASEE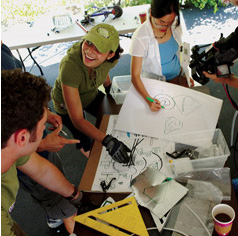 This online workshop was developed by NASA and PBS's DESIGN SQUAD for educators and afterschool leaders who want to build skills and confidence in guiding students through engineering activities.
Participants gain strategies for strengthening kids' critical-thinking abilities and getting them excited about using the design process–the series of steps engineers use to arrive at solutions.
In this self-guided workshop, educators can:
Experience the design process in action. Learn and reflect on ways to use the design process to tap into kids' problem-solving skills and creativity.
Watch an engineering activity. See how easy it is to integrate the design process into the hands-on activities you do with your kids.
Get resources. Discover a variety of engineering activities from NASA and DESIGN SQUAD for kids in grades K–12.
Filed under: Web Resources
Tags: Design, Engineering Design Process, NASA, PBS, Web Resources