Posted on
December 4th, 2011
by Jaimie Schock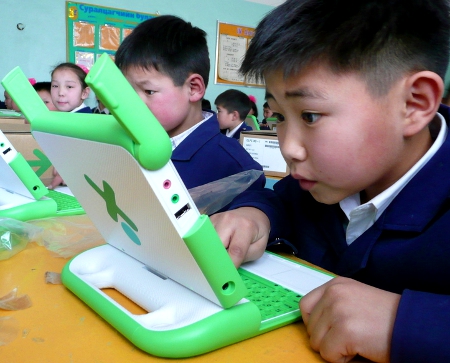 Students in Mongolia work on their new XO laptops.
The One Laptop Per Child (OLPC) program aims to provide each child with a rugged, low-cost, low-power, connected laptop. To this end, hardware, content, and software has been designed for collaborative, fun, and self-empowered learning. The goal is that with access to this type of tool children become engaged in their own education, and learn, share, and create together. They become connected to each other, to the world, and to a brighter future.
The laptops are generally sold to governments and issued to children by schools on a basis of one laptop per child. Using this model, deployments began around the world in 2007. An additional allocation of machines was used to seed the developer community, to enable a broader community of participation, and roughly 80,000 laptops were donated to countries around the world through grassroots donation efforts. As of 2011, more than 2 million laptops have been distributed under this model.
About the Laptop
The XO laptop was designed collaboratively by experts from academia and industry to combine innovations in technology and learning. The possibility of extreme environmental and weather conditions such as high heat and humidity meant it had to be durable, functional, and energy-efficient, as well as responsive and fun. The XO is about the size of a textbook and lighter than a lunchbox.
The laptops, which run on Linux, have wireless broadband that, among other things, allows them to work as an ad-hoc network: each laptop can talk to its nearest neighbors, creating a local area network even if there are no routers nearby. They are designed to be highly power efficient, enabling the use of innovative power systems (such as solar, human power, generators, wind, or water power).
To learn more about this program or to donate, visit the organization website.
Filed under: For Teachers, Grades 6-8, Grades 9-12, Grades K-5, K-12 Outreach Programs
Tags: education programs, International K-12 Education, Organizations, Outreach, Outreach for Schools, Technology, Technology for Learning