Posted on
February 19th, 2010
by ASEE
Bridge submission deadline: March 3, 2010.

For this bridge building contest sponsored by the Office of Educational Programs (OEP), Brookhaven National Laboratory, high school students from Long Island, NY, submit their bridges to the ultimate pressure test, and compete to take part in a national contest.
The construction and testing of model bridges promotes the study and application of principles of physics and  helps students develop "hands on" skills. Students get a flavor of what it is to be an engineer; designing structures to a set of specs and then seeing them perform their function.
Key Dates & Information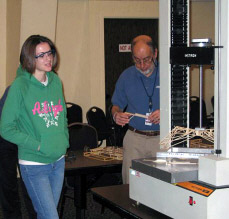 • Online Contest Registration form
• March 3, 4, & 5, 2010: Bridge drop off and qualification at The Science Learning Center, Building 935 (2:00-4:30 p.m.)
• Map to Learning Center pdf
• March 20, 2010 (Saturday): Bridge Contest at 9:00 a.m., Science Learning Center
• PLEASE NOTE: Photos will be taken and may be used in publications and on the Web.
2010 Bridge Specifications: Specifications (pdf) (note: the bridge figure was updated 12/21/10)
National Contest: The Bridge Building Home Page at the Illinois Institute of Technology
Previous Contests:

2009 Bridge Contest Results
2008 Bridge Contest Results
2007 Bridge Contest Results
2006 BRIDGE CONTEST RESULTS and pictures

Please see the Bridge Building Contest Website,  Office of Educational Programs (OEP), Brookhaven National Laboratory, for more information
Filed under: Grades 9-12, K-12 Outreach Programs
Tags: Bridge Design, Contest