Posted on
January 25th, 2011
by axb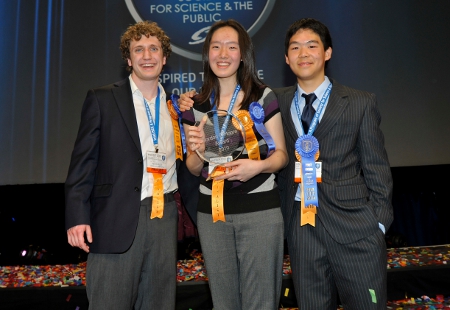 Amy Chyao and others with awards (Image by Chris Ayers/Intel)
A 16-year-old high school junior from Richardson, Texas, will be among First Lady Michelle Obama's guests for the president's State of the Union address Tuesday night, the White House announced.
Amy Chyao has developed a photosensitizer for photodynamic therapy (PDT), an emerging cancer treatment which uses light energy to activate a drug that kills cancer cells. After her freshman year biology class, Amy became interested in cancer research and came up with an idea for improving the way medicine is designed. So over her summer vacation she taught herself some basic chemistry and began her research.
With her work, Amy won the first place Gordon E. Moore Award at the Intel International Science and Engineering Fair, a program of Society for Science & the Public, in May 2010. Since taking home the top prize at the Intel science fair, she and her teacher have received inquiries from researchers who are actually implementing the therapy and are interested in her work.
Amy, whose parents came here from China, is also a cellist and tutors younger children in her spare time. Amy met the President at the October 2010 White House Science Fair.

More K-12 Education News
Filed under: K-12 Education News
Tags: Events, Science Fair, Student Awards