Posted on
May 3rd, 2010
by Jaimie Schock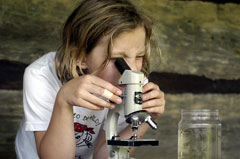 Multi-program Oak Ridge National Laboratory in Tennessee has a long history of linking with academia. Currently ORNL has educational programs in place for all scientific disciplines, and for all levels, from pre-college through postgraduate. ORNL offers educational and research experiences, scholarships, internships, summer day camps, symposiums, educational tours, financial aid to Tennessee schools, and speaking engagements.
The ORNL/Appalachian Regional Commission Summer Science Honors Academy provides a two-week summer research experience for ARC students and teachers hosted by ORNL's research divisions. This program allows outstanding students from the thirteen-state ARC region to participate in ongoing laboratory research projects, applying the tools and methods used at ORNL in science, mathematics and technology. The purpose of the Academy is to encourage high school students to consider careers in science and mathematics. Approximately 40 students and 10 teachers participate in the Academy annually.
Read more about ORNL and other National Labs and their outreach to K-12 education in this special feature article.
Filed under: For Teachers, Grades 6-8, Grades 9-12, Grades K-5, K-12 Outreach Programs, Web Resources
Tags: Internet Resources, National Laboratories, Web Resources