Posted on
May 30th, 2017
by Mary Lord

Classify clouds, draw a nautical chart, or learn about sea turtles and their quest to nest. These are just some of the online games highlighting environmental science and stewardship on the National Oceanic and Atmospheric Administration's Planet Arcade portal.
Several games were developed by students. Emily Yan, a student at Richard Montgomery high school in Maryland, worked with NOAA's Ocean Service Education team to develop a game about the animals of the Chesapeake Bay as part of her school's community service program. Jing Wang, a student in the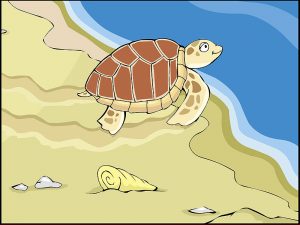 Montgomery College Computer Games and Simulations program, provided programming support on the development of Chesapeake Bay mini games. And a gaming team partnership between NOAA and Montgomery College resulted in a serious learning game called Waterlife: Where Rivers Meet the Sea.
The weather agency also offers a number of short videos about oceans, visualizations, and simulations, such as the tsunami depicted above.
Filed under: For Teachers, K-12 Outreach Programs, Web Resources
Tags: Class Activities, Climate, coastal management, earth sciences, Environmental science, erosion, interactive games, NOAA, oceans, shore, STEM education, waterways, Weather, Web Resources, Website