Posted on
January 21st, 2011
by Jaimie Schock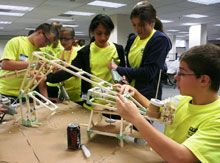 Level: 8th Grade
The NFPA Fluid Power Challenge is a competition that challenges eighth grade students to solve an engineering problem using fluid power. They work in teams to design and build a fluid power mechanism, and then compete against other teams in a timed competition. The NFPA Fluid Power Challenge:
Actively engages students in learning about fluid power.
Gives support and resources to teachers for science and technology curriculum.
Creates a learning environment where math and science are fun.
Encourages students to acquire a diversity of teamwork, engineering and problem-solving skills.
Introduces eighth graders to careers in the fluid power industry.
Helps build a strong workforce for tomorrow.
The NFPA Fluid Power Challenge consists of a Workshop Day and a Challenge Day.
Workshop Day
During the Workshop Day, the teams learn about fluid power by building a pneumatic lifter and develop the skills they will need for the competition. At the end of the Workshop Day, they take their kits, including tools and supplies, back to school. Over the next few weeks, the teams work on the Challenge scenario and design, develop a portfolio, and build and test a prototype for their fluid power mechanisms.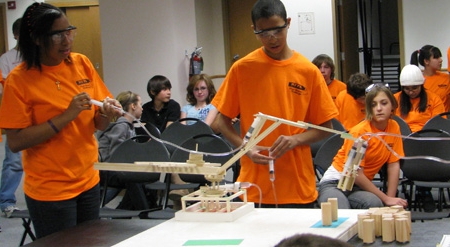 Challenge Day
The teams come together again on Challenge Day. They use the same tools and an identical kit of supplies to recreate their unique mechanisms, which they use in the competition to pick up weighted objects, and place them on a platform. Teams are graded in a number of areas, including total points, portfolio ideas, design and teamwork.
Through the Challenges, NFPA hopes to encourage students to select more mathematics and science courses in their high school curricula and to keep their options open for technology-based post-secondary studies.
What will you need to participate?
A team, or multiple teams, of four students (at least two girls per team preferred)
A desire to learn about hydraulics and pneumatics
The NFPA Fluid Power Challenge can be held as an "event" competition at schools, universities or fluid power companies (as described above), or in a classroom setting. For further information, contact Carrie Tatman Schwartz, Program Manager, at ctschwartz@nfpa.com, or (414) 778-3347.
Read more about the challenge, including highlights from past years, here.
Filed under: For Teachers, Grades 6-8, K-12 Outreach Programs
Tags: Alternative Energy, Contests, Organizations, Project Based Learning, Science Contest, Science Fair Projects