Posted on
August 31st, 2009
by als
The nation's largest teachers union has sharply attacked President Obama's most significant school improvement initiative, saying that it puts too much emphasis on a "narrow agenda" centered on charter schools and echoes the Bush administration's "top-down approach" to reform.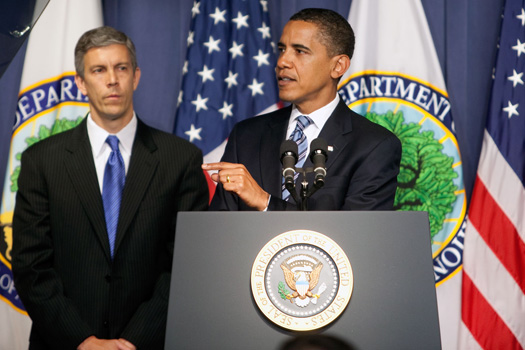 Official White House Photo by Lawrence Jackson
According to the Washington Post, the National Education Association's criticism of Obama's $4.35 billion "Race to the Top" initiative reflected deep divisions over the White House's education agenda within a constituency largely loyal to the Democratic Party. Itcame nearly a month after the president unveiled the competitive grant program, meant to spur states to move toward teacher performance pay; lift caps on independently operated, publicly funded charter schools; and take other steps to shake up school systems.
Filed under: K-12 Education News