Posted on
September 25th, 2011
by Mary Lord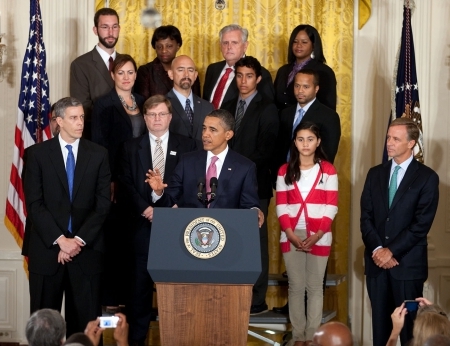 Flanked by students, teachers, state education leaders, and the U.S. Secretary of Education, President Barack Obama announced a waiver plan to let states and districts bypass some of the No Child Left Behind (NCLB) law's most onerous requirements. Chief among them: ensuring all students are proficient in reading and math by 2014, an impossible benchmark for most school systems. "Congress has not been able to fix these flaws so far," the President told the White House gathering last Friday. "So I will." In exchange for flexibility, however, states would have to adopt certain administration-mandated reforms.
The White House announcement comes as the school year gets underway and prospects grow increasingly dim that Congress will reauthorize the law, overdue since 2007.
Will this reduce "teaching to the test,"  as the President suggested, and restore science and other subjects that NCLB's focus on reading and math scores squeezed out of the school day?
Perhaps. However, waivers do not release states and districts from annual testing or accountability mandates. Moreover, in order to receive a waiver, states must pledge to a number of Race to the Top-style reforms, including instituting teacher evaluations based at least in part on student test scores. For struggling school districts, the waiver version of NCLB represent "a leap from the frying pan into the fire," writes Monty Neill, executive director of Boston-based FairTest, the National Center for Fair & Open Testing, in the Washington Post's Answer Sheet education blog (9/26). He sees continued pressure to narrow the curriculum and teach to multiple-choice tests—flaws that "may well outweigh the benefits to states of no longer having to meet unattainable 'adequate yearly progress' goals." Neill calls on Congress to intervene and significantly reduce the amount of mandated testing, help states design fundamentally different assessment systems, and provide the necessary resources to provide every child with strong, equitable opportunities to learn.
Read what teachers are saying on the U.S. Department of Education's blog post about what flexibility means for you.
Filed under: K-12 Education News
Tags: Education Policy, ESEA, NCLB, No Child Left Behind, Public Policy, waiver, White House