Posted on
November 13th, 2011
by Mary Lord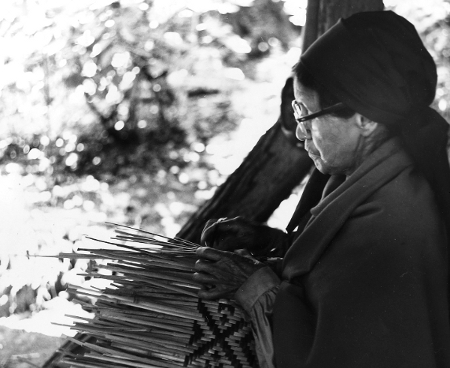 From wild rice cultivation to shelter design to tool-making, Native American traditions are steeped in STEM. Native American engineers and scientists have built on that legacy to benefit modern society. Celebrate Native American Heritage Month by learning more about some notable STEM trailblazers and their contributions.
Also check out the American Indian Science and Engineering Society.
Medicine
Dr. Lori A. Alvord (Navajo) – First Navajo woman surgeon, Dartmouth Medical School associate dean and assistant professor of surgery.
Stanford-trained Lori Alvord is the first Navajo woman to be board certified in surgery. She uses traditional Navajo healing with conventional western medicine to treat the whole patient. Her book, The Scalpel and the Bear, details her struggle to bring modern medicine to the Navajo reservation in New Mexico. Today, she is the Associate Dean of Minority and Student Affairs at Dartmouth Medical University. (Source: Dartmouth College.)
Solar Energy
Sandra Begay-Campbell. (Navajo Nation) Head of the Tribal Energy Program at Sandia National Laboratories, N.M.
New Mexico-born Sandra Begay-Campbell earned a bachelor's in civil engineering from the University of New Mexico and a master's in structural engineering from Stanford before heading to Sandia to work on photovoltaics.  She has spent the last decade bringing solar power to remote Navajo villages. (From Sandia and My Hometown Hero.)
Weather and Space Science
Robbie Hood (Cherokee Nation) Atmospheric scientist and director of NASA's Unmanned Aircraft System. Hood, a direct descendent of John Ross, the Cherokee Nation leader during the the forced exodus from the Eastern United States known as the "Trail of Tears," developed an interest in weather after seeing the devastation of Hurricane Camille during her childhood in Missouri and Mississippi. She studies thunderstorms, precipitation, and hurricanes using satellite and remote-sensing systems. (Source: NASA)
Mathematics
Robert Eugene Megginson (Oglala Sioux). University of Michigan professor of mathematics and 1997 U.S. Presidential Award for Excellence in Science, Mathematics, and Engineering Mentoring. One of only about a dozen known Native Americans to earn a Ph.D. in mathematics.
Megginson's Native American grandfather, a self-taught man, loved to give Megginson small problems to work out (e.g., "If you have $2.00 and want to buy 17 stamps of the following denominations… ")  After receiving a bachelor's degree in physics, Megginson worked for eight years as a computer systems software specialist. He returned to school to earn a doctorate in mathematics. For the last decade, he has focused on the serious under-representation of minorities in mathematics. One of only about a dozen Native Americans known to hold doctorates in mathematics., Megginson has served on and chaired numerous professional and national committees that address this problem. (Source: the University of Michigan and the Mathematics Association of America.)
Military Science
David Moniac (Creek)  First Native American and first minority graduate from the U.S. Military Academy, class of 1822.  Moniac is distinguished as the only Native American commissioned as an officer during the Second Seminole War. He was killed in action during that war at the Battle of Wahoo Swamp, Sumter County, Florida. (Source: U.S. Military Academy and Encyclopedia of Alabama.)
Engineer, Civil War hero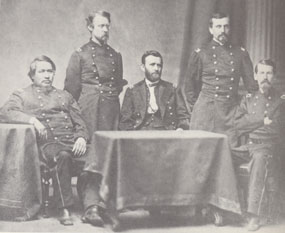 Ely Parker/Ha-sa-no-an-da (Seneca).  First Native American commissioner of Indian affairs, Seneca chief, U.S. Brigadier General, engineer, and Civil War hero.
A secretary to General Ulysses S. Grant (photo: center), and the first Native American Commissioner of Indian Affairs, Ely Parker (photo: far left) studied law even though New York State would not allow an Indian to have a law practice, and became a captain of engineers in the New York State Militia in 1853. Parker, the best man at Grant's wedding, was often referred to as "Grant's Indian."  He is remembered as a controversial figure, and to many, a hero. (Source: National Park Service.)
Filed under: Special Features
Tags: American Indians, famous Native Americans, Native Alaskans, Native American, Native American engineers, Native American Heritage Month, Native Hawaiians, STEM subjects