Posted on
January 22nd, 2012
by Jaimie Schock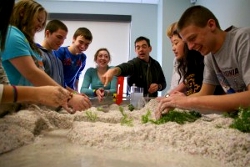 Level: High School Seniors
Deadlines: Most are Feb. 17, 2012, but it varies by state
Where: Charleston, West Virginia
Cost: Free
The National Youth Science Camp (NYSC) is a residential science education program for young scientists the summer after they graduate from high school. Students from around the country are challenged academically with hands-on studies and lectures, and they have voluntary opportunities to participate in an outdoor adventure program.
Since its inception in 1963 as part of West Virginia's Centennial Celebration, the residential summer program has offered educational forums and recreational activities that encourage the development of thoughtful scientific leadership. Two students are selected to represent each state. Each state and country conducts its own competition to select delegates. Delegates must participate in the entire NYSC program.  The application deadline for most states is Feb. 17, 2012; please see the selection coordinator database for information for your state/country.
The NYSC is an all-expenses-paid program.  The National Youth Science Foundation will arrange round trip transportation from an airport near the delegate's home to Charleston, West Virginia. Incidental expenses are not covered.
The camp is made possible through planning and fundraising from the National Youth Science Foundation, a nonprofit organization with a mission to honor, sustain, and encourage youth interest and excellence in science by conducting comprehensive informal science education programs. These programs are designed to provide opportunity for students to have constructive interaction with others and emphasize the social value of scientific careers.
Filed under: Grades 9-12, K-12 Outreach Programs
Tags: Programs for Boys, Programs for Girls, Programs for Students, Science programs, summer, Summer Camps & Programs (Students), Summer Programs (Students)