Posted on
May 3rd, 2010
by Jaimie Schock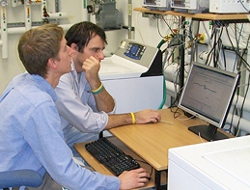 The National Energy Technology Laboratory maintains a list of educational resources and opportunities for all levels of education. The goal of NETL's education programs is to enhance interest in math and science and to provide resources and instructional materials. NETL provides research participation, workshops, career days, science fairs, instructional materials, in-house tour information, community outreach programs, and events.
Tours of NETL facilities for students and teachers are tailored to the visiting group. Each year approximately fifteen schools take advantage of these tours. Tours of the R&D facilities focus on energy research and solving national environmental problems.
NETL hosts programs to assist high school teachers in developing exciting science curricula for their classrooms. Such programs include a computer software workshop for high school chemistry and physics teachers and their annual Educator in the Workplace experience. Partnering with the Mon Valley Educational Consortium and West Virginia University, NETL provides the opportunity for ten local high school teachers to work hands-on with NETL researchers during the summer on an experiment of timely interest. The aim is to give the teachers contemporary material that they can work into their science curricula.
Read more about ORNL and other National Labs and their outreach to K-12 education in this special feature article.
Filed under: For Teachers, Grades 6-8, Grades 9-12, Grades K-5, K-12 Outreach Programs, Web Resources
Tags: Alternative Energy, Energy, Internet Resources, National Laboratories, U.S. Department of Energy, Web Resources