Posted on
May 27th, 2013
by Mary Lord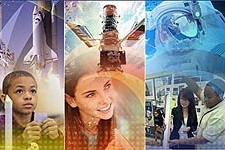 Want to help your students beat the "summer slide" and keep learning over the summer? NASA's 2013 Summer of Innovation project lets middle school students across the United States share in the excitement of scientific discovery and space exploration through NASA-releated STEM opportunities.
The program leverages the expertise and outreach of NASA's 10 field centers, industry partners, and other collaborators to keep students engaged in STEM activities over the summer holiday. There are family activity days, summer day camps, professional development opportunities, and educational resources – including themed camp guides – to help teachers create short summer STEM units.
NASA also offers grants of  up to $2,500 for educational partners such as museums, schools, or youth organizations to infuse STEM content into existing after-school and summer programs. The deadline for proposals is Monday, June 10, 2013. Click HERE to apply.
Filed under: For Teachers, Grades 6-8, K-12 Outreach Programs
Tags: Aerospace, Curriculum, grants, NASA, Professional Development, Resources for Teachers, STEM education, Summer Camps & Programs (Students), Summer of Innovation, summer programs, Summer Programs (Teachers), Teacher Resources