Posted on
August 10th, 2012
by Jaimie Schock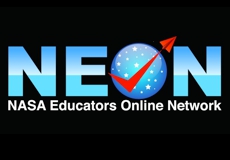 NASA is providing several new webinars for educators, which include hands-on activity demonstrations for specific grade levels. Additionally, the University of Nebraska-Lincoln is offering an online course on climate research applications with funding from the NASA Innovations in Climate Education program. Applications for the course are due August 20, 2012.
WEBINAR: Living and Working in Space (Grades K-5)
Aug. 16, 2012, 10 – 11 a.m. EDT
Aerospace education specialist Wil Robertson will introduce teachers to some of the obstacles humans face while traveling in space. The webinar will review the major difficulties and concerns of adapting to the space environment, from everyday living and personal hygiene to safety.
WEBINAR: "Flying to Mars… In an Airplane?" (Grades 3-9)
Aug. 16, 2012, 4 – 5 p.m. EDT
Aerospace education specialist Brian Hawkins will present an overview of the Mars Science Laboratory mission with its Curiosity rover and explore the proposed Aerial Regional-Scale Environmental Survey of Mars, or ARES, mission. ARES is also known as the Mars Airplane. Two hands-on activities will be demonstrated during this session.
Click here for more information on these webinars. Questions about this series of webinars should be directed to Gwendolyn Wheatle.
Online Climate Research Applications Course – K-12 science educators have the opportunity to take part in the development of a new online master's-level course in Climate Research Applications. Climate change issues will serve as a context to develop research questions and design a discrete, locally oriented research project through which they define a problem, analyze data, and develop conclusions to potentially impact decision-making in their communities.
Educators are encouraged to utilize this opportunity to expand their knowledge of climate change, as well as their available tools for educating students and their local communities. Participants will earn three graduate-level credit hours through UNL, as well as a stipend to cover tuition costs.
Applications are due Aug. 20, 2012. Questions about this class should be directed to Christine Haney Douglass.
Filed under: For Teachers, K-12 Outreach Programs, Web Resources
Tags: Aeronautics, Aerospace, Aerospace Engineering, Courses, NASA, Resources for Teachers, Teacher Training, Webinar