Posted on
March 19th, 2015
by Mary Lord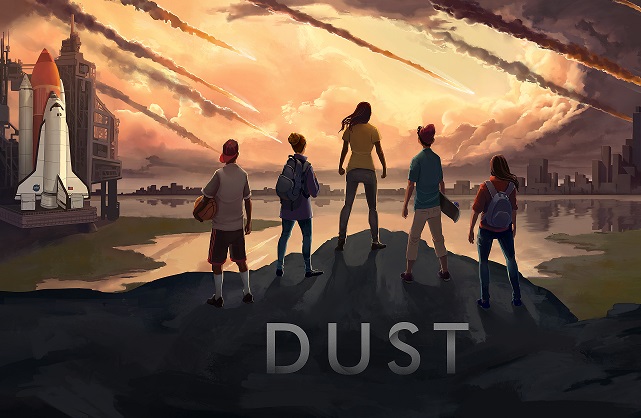 Meteorites streak through the sky, dropping mysterious dust that renders people unconscious worldwide.
Working together to rescue their parents, teens must gather dirt from Mars and thwart space-agency hackers.
Who says STEM education isn't fun? Not NASA engineers!
Working with college students from Brigham Young University in Utah and the University of Maryland, engineers from the Goddard Space Flight Center in Maryland and NASA Langley in Virginia created "Falling Dust," a free, alternative-reality game to encourage teens, especially young women and minority students, to study science, technology, engineering, and math. (Click HERE to view the trailer.) The $2 million production was funded by several grants from the National Science Foundation's informal STEM learning program.
DUST lets multiple players interact and apply real-world skills to save humanity. As with real engineering, "there are no fixed outcomes. It's up to the students to move the story along and do problem solving using scientific method and critical thinking skills," said aerospace engineer Bill Cirillo of NASA Langley Research Center, who started working with the game's developers almost two years ago.
Players are given science clues and new additions to the story about two to three times a week through email, social media, and game applications. As a community, they work to guide the action, add input, provide solutions, and conduct research to help save the adult characters.
DUST's developers hope players will learn skills needed to form and test theories, and become better at  collecting and analyzing data, communicating ideas, and proposing solutions. Each game scenario will include one or more activities that support Next Generation Science Standards.
Ultimately, the goal is to make kids comfortable with the idea of becoming a scientist, engineer, or gamer.
"If we can do that, I think we've found the secret sauce that will crack open the U.S.'s ability for great discoveries," Jeff Sheets, a BYU communications professor who helped oversee the project, told the Salt Lake City Tribune.
Filed under: K-12 Outreach Programs, Special Features, Web Resources
Tags: Aerospace Engineering, alternative-reality game, Brigham Young University, DUST, engineers, gaming, interactive game, meteors, NASA, online game, Problem Solving, University of Maryland