Posted on
February 11th, 2013
by Mary Lord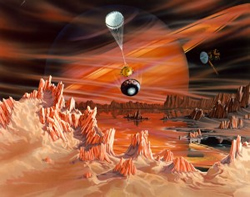 Where should NASA's next big mission to the outer solar system go: Saturn's moon, Titan, or Jupiter's moon, Europa?
The space agency is hosting an essay contest for students in grades 5 to 12 to help them choose.
Watch these videos about astrobiology and the engineering challenges of exploring Titan and Europa, then write an essay (500 words or fewer) explaining which moon you would send a spacecraft to explore, if you could, and why.
Be creative, be original, and ask good questions that you hope the mission would answer. These useful links offer additional information on the two moons and what scientists know about them.
Students can include information about the instruments they would put on the orbiter and balloon or lander. The Titan mission would include a Titan orbiter and a Titan balloon. The Europa mission would include a Europa orbiter and a Europa lander.
Teachers should submit the contest entries on their students' behalf. The deadline for submission is Feb. 28, 2013.
NASA will send certificates of participation to all students who enter, with winning essays posted on a NASA website. Winners and their classes will be invited to participate in a question-and-answer teleconference, videoconference, or web conversation with NASA scientists.
Questions about the Titan & Europa essay contest can be sent to: titaneuropa@jpl.nasa.gov
Filed under: Grades 6-8, Grades 9-12, Grades K-5, K-12 Outreach Programs
Tags: Astrobiology, Competitions for Students, Contest, Essay Contest, Europa, Grades 6-8, Grades 9-12, moons, NASA, Solar System, space experiments, space exploration, Titan