Posted on
April 7th, 2010
by ASEE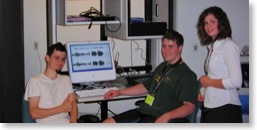 Dates: Aug. 2-6. Level: Priority given to students grades 10 and 11. Location: Drexel University College of Engineering, Philadelphia, Pa. Cost: Application Deadline: April 12, 2010.
Application to the program is now closed, but please check back next year.
The Summer Music Technology (SMT) program at Drexel introduces high school students to the technology of digital music to reveal the influence and importance of engineering, science, and mathematics in music performance, recording, and listening. Many high schoolers are already experienced users of music technology (to organize and share their music, to transfer them to their portable players, and even to re-mix or "mash-up" their music into new creative works). By engaging students' interests in music we hope to catalyze curiosity in science and technology. In particular, we wish to attract students from backgrounds under-represented in the fields of engineering, math, and science who may not have considered it previously.
Eligibility

Priority is given to students entering 10th or 11th grade in Fall 2010 (rising sophomores and juniors). Prior music experience is not required, but applicants should demonstrate a particular enthusiasm for music.
Included topics
Find out how music is recorded and produced.
Experiment with acoustic and electronic instruments.
Understand how sound stored in a computer.
Learn about how mp3 players (iPods) work.
Create new sounds and sound effects.
And many more…
Activities
The 2010 program will be held the week of August 2-6. Classes and activities run from 9:00 am to 3:00 pm (Monday-Friday) on the campus of Drexel University.
Application deadline: extended to April 12, 2010.
Prospective participants must submit an application, including a high school transcript and a letter of recommendation. Applicants will be notified by May 10, 2010.
Click here for the online application
For more information: e-mail smt@coe.drexel.edu
Drexel Engineering video: http://www.drexel.edu/coe/news/2008-eng-video/
Filed under: Grades 9-12, K-12 Outreach Programs
Tags: Grades 10 and 11, Music engineering, Summer Camps & Programs (Students), Summer Programs (Students)