Posted on
September 20th, 2010
by ASEE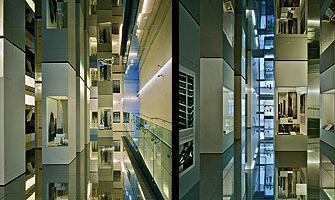 Location and Times: 39 Battery Place, New York City, New York. Open 12-6, Wed.-Sun. Admission: $5, $2.50 for students and seniors.
The Skyscraper Museum celebrates New York City's rich architectural heritage and examines the historical forces and individuals that have shaped its successive skylines. Through exhibitions, programs and publications, the museum explores tall buildings as objects of design, products of technology, sites of construction, investments in real estate, and places of work and residence.
The Resources for Educators page include a "Tower Tube"  tool kit for New York City teachers, with primary source materials and activity guides keyed to a class trip to the museum. Downloadable lesson plans include material on a past exhibit on tower structures in Shanghai, China. Challenge your students with the math exercises from the Run-Up-Race
Please check the Website for family and public programs; book talks; past, current, and future exhibits; and to subscribe to the newsletter. Call 212.968.1961 for more information.
Filed under: For Teachers, Grades 6-8, Grades 9-12, Grades K-5, K-12 Outreach Programs, Web Resources
Tags: Museums, Skyscrapers, Structural Engineering