Posted on
June 7th, 2010
by ASEE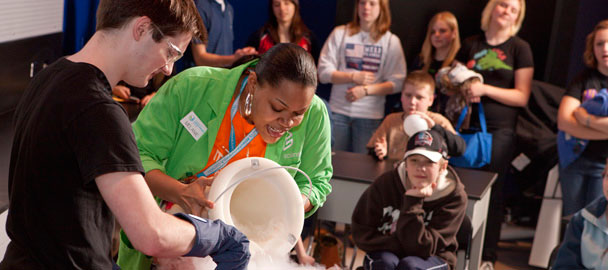 Chicago's  Museum of Science and Industry is one of the largest science museums in the world, home to more than 35,000 artifacts and nearly 14 acres of hands-on exhibits designed to spark scientific inquiry and creativity.
MSI aims to motivate children to achieve their full potential in the fields of science, technology, engineering and medicine and to inspire inventive genius with world-class, permanent exhibits, such as the U-505 Submarine and Coalmine, and temporary exhibits  such as 2008's Smart Home: Green + Wired,  Science Storms, Tools of Science, and Navy: Technology at Sea.
Beyond the interactive exhibits, the Museum's Center for the Advancement of Science Education offers student learning labs, after-school science clubs, teen volunteer programs, teacher development classes, and community outreach. Teachers may be particularly interested in the museum's online activities.
Read more about other museums in this special feature article.
Filed under: K-12 Outreach Programs, Web Resources
Tags: Museum, Museums, Science museum