Posted on
June 23rd, 2010
by ASEE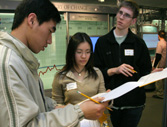 Location: 500 5th Street NW, Washington, DC 20001-2736. Hours: Open 10 am-5 daily, except Tuesdays. Admission: Adults: $5.00; Students, Children, and Seniors: $3.00.  Contact: (800) 624-6242.
The Marian Koshland Science Museum, of the National Academies of Sciences in Washington, DC,  aims to engage the general public in current scientific issues that impact their lives. The museum's exhibits, public events, and educational programs provide information that stimulates discussion and provides insight into how science supports decision-making.
For teachers, the museum offers a unique, standards-based approach to science education, whether for an upcoming school visit, a virtual visit, or as a resource of lesson plans and class activities to support the middle and high school science curriculum. Visit the Teach and Learn section to find Web quests and class activities  on global warming, infectious diseases, the HIV pandemic, and genetics.
Current 2010 exhibits include:
Infectious Disease: Evolving Challenges to Human Health. This exhibition explores the microbial world we live in, examines the emergence of new threats, and shows how our response determines the spread of disease.
Global Warming Facts & Our Future: This exhibition explores issues related to global warming, including possible implications of this phenomenon for the quality of life worldwide.
Wonders of Science: This introductory section displays scientific animations that illustrate ground-breaking scientific research and includes a film, What is the Universe Made Of? The film and animations are updated periodically.
Putting DNA to Work: Now at the Museum of Nature and Science in Dallas, Texas, this exhibit explores how DNA sequencing technology is used to solve many of today's challenges.
Please see the Website for more, and updated, information, including lextures, workshops, and exhibits.
Filed under: K-12 Outreach Programs, Web Resources
Tags: Grades 6-12, National Academies of Sciences, Science museum