Posted on
May 17th, 2010
by ASEE
Location:  1801 Dock St. Tacoma, WA 98402-3217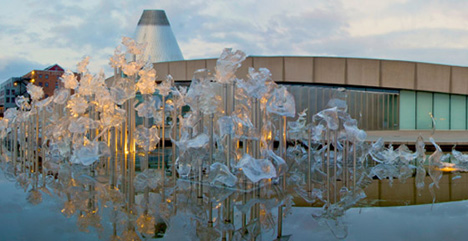 In addition to school tours and ongoing programs for educators and students, the Museum of Glass offers online resources such as a "Learn about glass" page, with helpful background information,  articles ( Science & Glass, Glass & the Arts; Glassblowing; Exploding Glass: The Rupert's Drop), and a glossary of glass-making terms.
Visit the MOG Curriculum Center for curriculum guides, which are keyed to museum exhibits and class visits, but can also be modified for separate lessons on glass and light. These include:
"Sound of Glass," a unit  investigating musical sounds produced by glass instruments;
"Art of Light," a unit that prepares students to evaluate the optical characteristics of glass art by learning the fundamental principles of light; and
"Color in Glass," a unit that explores the influence light has on color and how our brains perceive images.
The museum's Kids Design Glass exhibition, which runs through October 2011,  showcases 52 glass sculptures designed by children who participated in the Kids Design Glass program between 2005-2009.
The exhibit highlights the symbiotic relationship between designers and glassblowers who make works of art in glass: Each child drew a design, named it, and wrote a brief explanation. The Museum's Hot Shop Team selected one design every month based on its aesthetic merits and transformed the two-dimensional drawing into a three-dimensional sculpture.
The Hot Shop Team has become highly proficient in making the unconventional sculptures, which are more difficult to create than they might appear. "Following a child's drawing takes an entirely different kind of precision," states Museum of Glass Hot Shop Manager Benjamin Cobb. "Each Kids Design Glass session is an adventure. The process is always a challenge and immensely rewarding. It's one of our favorite things to do—and one of the most intense."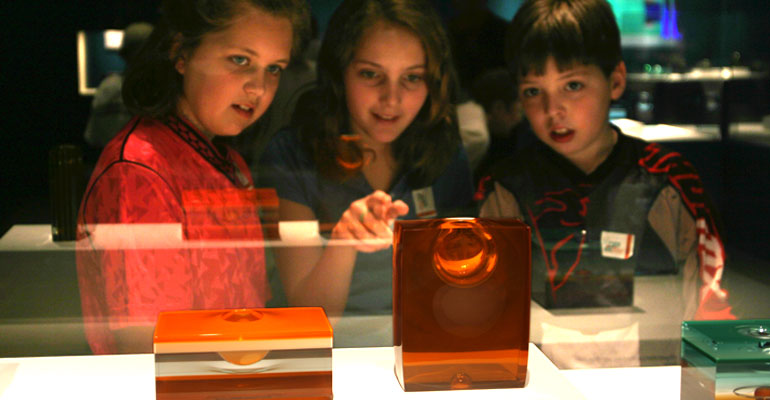 Filed under: Grades 6-8, Grades 9-12, Grades K-5, K-12 Outreach Programs
Tags: Curriculum, Glass, Museum