Posted on
March 13th, 2011
by Mary Lord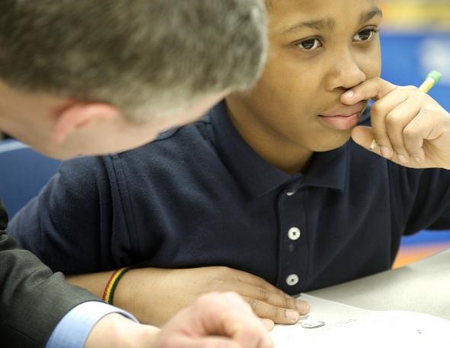 Education Secretary Arne Duncan sits with a young student
As students gear up for this year's round of federally mandated state tests, the U.S. Secretary of Education predicted that more than three-quarters of the nation's public schools could soon be labeled "failing." Arne Duncan's projection, reported by the Washington Post March 10,  signals an end to the school-ratings revolution launched by the Bush administration's No Child Left Behind Act nearly a decade.
"This law is fundamentally broken, and we need to fix it, and fix it this year," Duncan told the House Committee on Education and the Workforce. "The law has created dozens of ways for schools to fail and very few ways to help them succeed. We should get out of the business of labeling schools as failures and create a new law that is fair and flexible and focused on the schools and students most at risk." An Education Department analysis estimated that 82 percent of schools could miss academic targets this year, up from 37 percent in 2010.
Several analysts and advocates dismissed Duncan's estimate as hype intended to scare Congress into embracing Obama's plan to change some accountability provisions. "I find it hard to believe," said Jack Jennings, a former Democratic congressional aide who heads the nonpartisan Center on Education Policy, which tracks the law. "I think they really stretched it for dramatic effect."
Education officials said that, if anything, the analysis was conservative. Efforts in Congress to rewrite the education law have sputtered in recent years, but there are some signs of momentum from both parties.
Filed under: K-12 Education News
Tags: Education Policy, Public Policy, Research on Learning, Teachers