Posted on
June 5th, 2011
by ASEE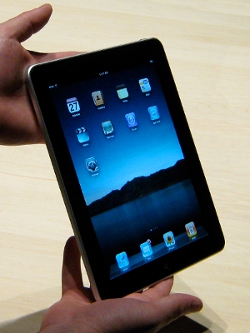 Apple's iPad hasn't yet taken over the nation's classrooms, but it's starting to look as though it might.
The Denver Post reports that an increasing number of Colorado schools are choosing iPads over laptops and that "more and more educators have bought into the tantalizing potential" of the $500 tablet. Manitou Springs Middle School plans to buy an iPad for every fifth-through-eighth grader next year. The following year, the district wants every high schooler to have one.
The range of applications, including full texts of many books, continues to grow. Schools in Edison Township, N.J. are testing an iPad-only algebra curriculum from Houghton Mifflin called Fuse, which includes videos, the ability to take notes or record audio notes, equations broken down step by step and sample problems that give students instant feedback, according to Education Week.
Daniel Willingham, a psychology professor at the University of Virginia who specializes in cognitive approaches to education, cautions that the success of the iPads will depend on the content they're used to provide. "The key is whether the good stuff makes its way to the classroom," he says, according to the Denver Post. "If it does, then there's a real likelihood (the iPad) will stick around. If not, it may end up being the flavor of the month."
Filed under: K-12 Education News
Tags: education firsts, Education Policy, Technology, Technology for Learning