Posted on
July 31st, 2013
by Mary Lord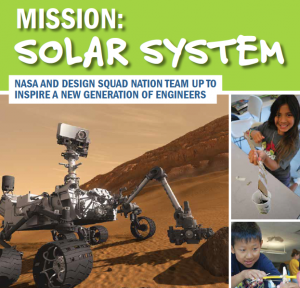 When the Curiosity rover landed on Mars last August 5, it marked a 23-month period of exploration so extraordinary that NASA dubbed it the Year of the Solar System. (A Martian year is almost twice as long as Earth's!)
To inspire the next generation of explorers, NASA and PBS's Design Squad Nation have teamed up to create a series of space-based engineering challenges for children in grades 4 to 8.
Mission: Solar System features five fun, hands-on design activities that help kids learn to think like NASA engineers by applying their STEM knowledge to solve real-world problems. The standards-based challenges can complement classroom instruction or after-school programs, and include videos, interviews with engineers, and other resources.
Download the complete Mission: Solar System guide (pdf).
Filed under: Class Activities, For Teachers, Grades 6-8, Grades 6-8, Grades K-5, Grades K-5, K-12 Outreach Programs, Web Resources
Tags: Aerospace Engineering, Class Activities, Design Squad, Grades 6-8, hands-on activities, Mars rover, NASA, PBS, Solar System, Space, STEM education, Teacher Resources, Web Resources