Posted on
August 28th, 2011
by Mary Lord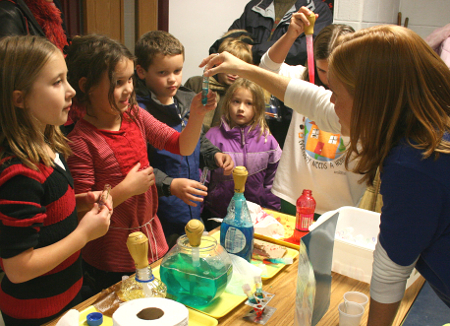 You don't have to be an engineer to introduce engineering into your classroom.  In fact, hands-on design/build/test activities are a great way for students to learn math and science by applying it. The eGFI site includes scores of inexpensive, engaging lessons — searchable by grade level or subject — that cover the various engineering disciplines. New ones are added regularly.
To kick off the school year — and to introduce or reacquaint you with eGFI — we've assembled a dozen of 2011's most popular lessons and activities to help put some "E" in your STEM class. Have fun – your students will!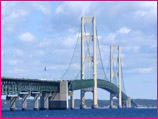 1. Bridge Building: Tension and Compression (Grades 6 -12)
In this lesson, student teams experiment with the forces of tension and compression by manipulating objects that are strong in each but not both. Students take what they have learned and apply it to the construction of a simple model of a beam bridge and a more complex suspension bridge and inverted triangle support structure.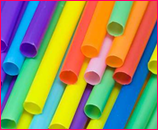 2. Build an Earthquake-proof Structure (Grades 6-12)
Student teams construct towers out of drinking straws that must withstand simulated earthquakes  vibrations and the increasing load of 250 gram sandbags. After each test, students have 2 minutes to repair any damage before the next begins. Students learn basic principles of earthquake engineering and design, as well as team skills essential to all fields of  science and engineering.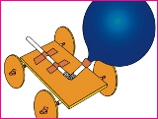 3. Balloon-powered Car (Grades 4-8)
Students construct racing cars from Styrofoam food trays and power them with the thrust of an inflated balloon. In three racing trials, the racers shoot along a straight course, and the distance the racers travel is measured. Between trials, students redesign their racers to improve their performance and solve any "mechanical" problems that crop up. At the conclusion of the activity, students submit a detailed report on their racer design and how it performed in the trials.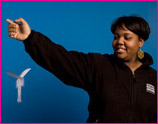 4. Make and Fly a Paper Helicopter (Grades 1 -6)
With a few simple folds, students  create a paper flyer that moves like the blades of a helicopter. They learn how changing the helicopter's shape or weight affects its flight and explore how air resistance changes the way an object falls.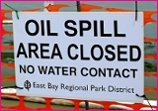 5. Oil-spill Solutions (Grades 3 -12)
This lesson focuses on how engineers use various techniques to provide speedy solutions to oil spills or other threats to natural water resources. Students work in teams to analyze an "oil spill" in the classroom, then design, build, and test a system to first contain, and then remove the oil from the water. Students select from everyday items to build their oil containment and clean-up systems, evaluate the effectiveness of their solution and those of other teams, and present their findings to the class.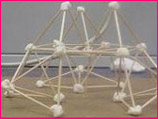 6. Leaning Tower of Pasta (Grades 5 – 7)
Engineers consider tension and compression forces when designing structures and choosing building materials. Using spaghetti and marshmallows, students experiment with different structures to determine which ones are able to handle the greatest amount of load. Their experiments help them to further understand the effects that compression and tension forces have with respect to the strength of structures. Spaghetti cannot hold much tension or compression; therefore, it breaks very easily. Marshmallows handle compression well, but do not hold up to tension.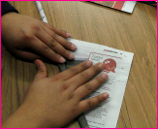 7. Build a Tower (Grades K -12)
Students are challenged to build the tallest structure they can using only two sheets of newspaper, getting it to stand up firmly without using tape, staples, glue, or other materials. By considering to bend, fold, or tear the paper, students learn about basic structural techniques in building creation.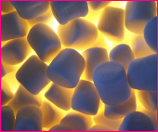 8. Flying Marshmallows: Build a Simple Catapult (Grades 4–8)
This simple catapult activity teaches students how energy is transferred when a plastic spoon is pulled back, then released, rocketing its payload — a single marshmallow.
A similar lesson that generated nearly as much traffic is Build a Catapult.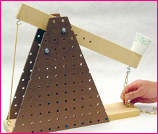 Students in grades 4 – 12 learn about the history of catapults and how they work. They assemble their own catapult model, making adjustments to improve its performance. Students gain engineering experience while learning principles of physics and working with the processes of experimentation, trial and error.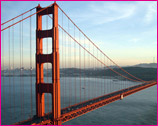 9. Bridge Building (Grades 5 -12)
Bridges are structures which carry people and vehicles across natural or man-made obstacles. Based on the length of the barrier to be crossed, the amount and type of traffic as well as forces of nature (wind, tide, flood) different materials and shapes of bridges are used. In this lesson from the Society of Women Engineers, your team will build the strongest of all the bridge structures – the suspension bridge. Your 4th – 6th graders also might enjoy another popular lesson: Build a Human Suspension Bridge.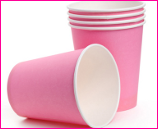 10. Paper Cup Challenge (Grades 5 -8)
Students are challenged to redesign the classic paper cup so that no tape, glue, or staples are necessary, reducing production costs and the cost of individual paper cups. Each pair of students will be given a stack of paper to design a new paper container that can hold water for a short period of time.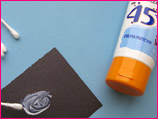 11. Explore the Nano in Sunblock (Grades K-12)
Sunblocks containing nanoparticles are one of the most common applications of nanotechnology. In this quick, hands-on lesson using everyday materials, students compare sunblock containing nanoparticles to those that do not, and learn how nanoparticles are used to help block harmful rays from the sun.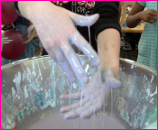 12. Funny Putty (Grades 1 -8)
Students will learn some serious materials science–and hit several national science standards–by using everyday items to create and investigate the properties of Funny Putty.
Filed under: Class Activities, Grades 6-8, Grades 6-8, Grades 9-12, Grades 9-12, Grades K-5, Lesson Plans, Special Features
Tags: Aerospace, balloon racers, bridge, build, catapult, Civil Engineering, Class Activities, earthquake, Grades 6-8, Grades 9-12, Grades K-5, Lesson Plan, Lesson Plans, Nanotechnology, Structural Engineering, Teacher Resources, tower