Posted on
August 19th, 2011
by Mary Lord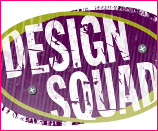 eGFI teachers' newsletters have featured activities and lesson plans developed by PBS's Design Squad Nation, with video links and suggested modifications for different age groups. Here's a sampler:
Pop Fly! (Engineering design, levers, physics, trajectories) Student teams in grades 3 – 12 design a device that can launch a ping-pong ball high enough for them to catch it.
On Target! (Engineering design, physics, laws of motion, trajectories) Teams of students in grades 6 -12 learn the engineering design process by modifying a paper cup to carry a marble down a zip line and drop it precisely on a target.
Paper Table. (Engineering desing, structures, civil engineering, geometry)
Student teams in grades 4 -7 design and build sturdy paper tables out of tape and newspaper.
(With NASA) Build a Lunar Lander. (Engineering design, aerospace engineering, forces) Student teams in grades 3 – 8 use the engineering design process to design a shock-absorbing that protects two marshmallow "astronauts" when it lands.
Filed under: Class Activities, Grades 6-8, Grades 6-8, Grades 9-12, Grades 9-12, Grades K-5, Grades K-5, Lesson Plans
Tags: Class Activities, Design Squad, Engineering Design, Lesson Plans