Posted on
January 30th, 2011
by Jaimie Schock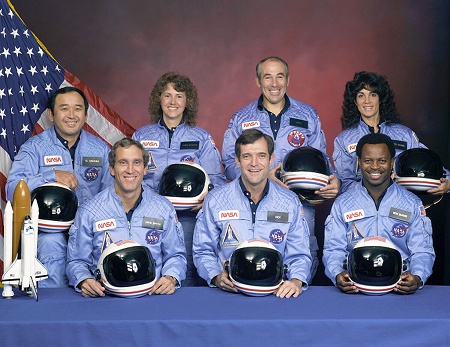 The Challenger Crew
Twenty five years ago, on January 28, Americans watched in horror as the space shuttle Challenger exploded, barely a minute after takeoff, killing all seven crew members. Few now recall the failed rubber O-rings blamed for causing the accident. But, schools nationwide still honor the memory of Christa McAuliffe, a New Hampshire high school social studies teacher who was aboard the ill-fated flight that morning as NASA's first Teacher in Space Project participant.
A variety of tributes were planned to mark the sad anniversary. At the Kennedy Space Center in Florida, site of the launch, hundreds gathered for a memorial ceremony. NASA held a "Day of Remembrance" at Arlington National Cemetery, while some of McAuliffe's former colleagues gathered over a potluck at their old school in Concord, N.H.
Still, it is McAuliffe's continued impact on teaching and learning that proves the most enduring legacy. NASA's education programs offer a wealth of curricula, online resources, and even video games to engage students in authentic science and research. The Challenger Center for Space Science Education, an Alexandria, Va.-based nonprofit established to continue her journey of inspiration, now has 43 learning centers nationwide offering Web casts with astronauts and other learning opportunities.
One of these outposts is a public charter middle school in Framingham, Mass., named for McAuliffe. Students there marked the anniversary, reports Education Week, by investigating new kinds of space suits, ionized propulsion, and the climate on Venus. McAuliffe was a proponent of hands-on, experiential learning—so it's only fitting that the Challenger Learning network includes a Christa McAuliffe Center that provides curriculum resources and professional-development programs for math and science teachers.
Filed under: K-12 Education News
Tags: Aeronautics, Aerospace, Events, History, NASA