Posted on
April 19th, 2010
by asee admin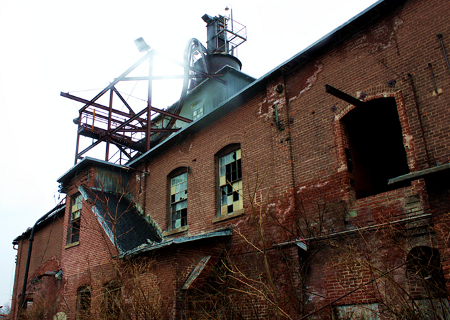 For residents of Pennsylvania's Lehigh Valley, Blue Mountain has been a scar on the landscape and a health hazard. For 80 years, a heavy metals processing plant pumped zinc, lead, cadmium, and sulfur dioxide into the air and metal residue into water sources. The mountain's plants, wildlife, insects, and natural bacteria were devastated, leaving an eroded surface where even the blackened dead trees could not decay.
For 120 sixth graders at Eyer Middle School in Macungie, Pa., however, Blue Mountain became something else: a laboratory where they came to understand the nation's problems with toxic waste and learn ways to clean it up.
Over five weeks in 2007 and again in 2009, students studied the underlying science of a toxic waste site, generated and analyzed data from samples, and came up with and tested their own solutions. In the process, they visited the site regularly, communicated with experts, got to use sophisticated equipment, such as an electron microscope, and learned how nanotechnology could be applied to soil and groundwater cleanup.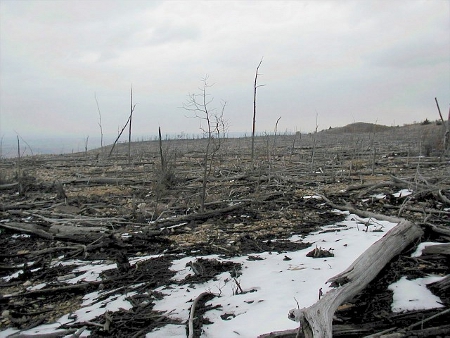 A Real-World Problem
The Eyer Middle School project was a collaboration between Eyer teacher Sue Bauer and Andrea Harmer, an assistant professor of library science and instructional technology at Kutztown University.
Harmer, who also teaches at Lehigh University, wanted to examine the impact of a real-world problem on students' engagement with science.
Although her findings aren't quite complete, Harmer says there's no question about the students' interest: "I was very surprised by how passionate the students became about their research and their genuine willingness to help. They spent many hours on their projects outside of class and requested to come in to work on it during recess and extra lunch."
The students learned about what pollution had wrought on the mountain and were then presented with several possible ways to decontaminate and revive the site. Groups of four or five students chose samples to work with, including mangled leaves, soil, test plot and non-test plot grasses, and dead tree limbs.
Each group created an Energy Dispersive Spectra (EDS) image of their sample on a Scanning Electron Microscope, which they could access remotely from a laptop.
Decontamination techniques included re-vegetation and removal of lead from groundwater and soil using iron nanoparticles. This last technique, developed by by Lehigh University professor Weixung Zhang, proved to be a favorite of many of the student groups.
Encouraged by the students' interest, Zhang is now using the area to test the effectiveness of his nanoparticle process in removing zinc from the soil.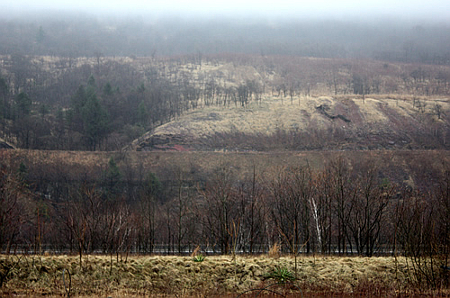 Reviving a Mountain
Students and Zhang aren't the only ones for whom Blue Mountain presents a challenge. For the U.S. Environmental Protection Agency, it's been a testing ground for several engineering innovations in one of the largest EPA re-vegetation efforts ever attempted.
In 1982, Blue Mountain was designated a Superfund site, part of a massive nationwide program to identify, monitor, and clean up abandoned hazardous waste sites.
To revive the 2,000-acre mountain slope and "cinder bank," a 22-acre mound at the base of the mountain where hot coals were once dumped, project manager Charlie Root and his team modified an old military truck to spread seed, limestone, and compost. They brought in an agricultural tractor, removed the wheels and replaced them with continuous tracks. The agricultural spreader box attached to it had its easy-to-damage wheels removed and replaced with jet airliner tires, which have steel belts in them. For higher applications, crop duster airplanes where used.
Ground water was diverted around the cinder bank, with a sludge and seed mixture added where it isn't still burning. EPA engineers built two 75-foot-deep collection basins lined with iron-rich material recycled from the processing plant. As runoff water pools in the basins, the heavy metals sink to the bottom and get caught in the porous lining. Hydrochloric acid is pumped into the water to make it pH neutral, and then the water is added to the nearby stream.
Despite the years of effort and $4 billion spent, the slope still looks barren, petrified trees still stick up from rocky ground, and the air smells metallic. The abandoned processing plant, a crumbling ruin, remains an eyesore in the town of Palmerton.
But, change is slowly coming. Plant life and wildlife have begun to return, and the industrial complex is being torn down privately. Blue Mountain is greener today than it has been in more than a century.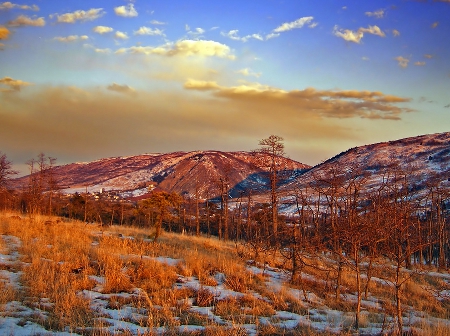 For an interactive tour of some of the most hazardous Superfund sites across the country, check out Superfund365.
Filed under: Special Features
Tags: Environmental Engineering, Environmental Protection Agency, Environmental science, Feature Story, Recycling, Superfund, Waste management