Posted on
December 12th, 2009
by ASEE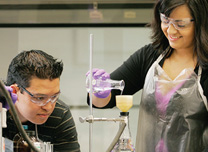 deadline: April 1, 2010
The Advancing Hispanic Excellence in Technology, Engineering, Math, and Science (AHETEMS) Scholarship Program is designed to enhance and achieve the potential of Latino students pursuing degrees in engineering, math and science. Merit-based and need-based scholarships are awarded, in the amount of $1,000 – $5,000, to deserving Latino/a high school graduating seniors, undergraduate students, and graduate students who demonstrate both significant motivation and aptitude for a career in science, technology, engineering or mathematics.
Several scholarships are offered under this program. Please see the details about each:
APPLICATION DEADLINE: Postmarked by April 1. The application period for the 2010-2011 academic year will open in January 2010.
ELIGIBILITY: Eligibility requirements differ for each scholarship. However, all scholarships require a  minimum 3.0 GPA both at the time of application and throughout the scholarship period, and students must be registered full time (12 hrs undergraduate / 9 hrs graduate) in a science, technology, engineering, or math discipline. Please refer back to this Web site for updated scholarship postings.
APPLICATION REQUIREMENTS: Applicants complete and submit only one AHETEMS Scholarship Program Application for all the scholarships. In general the application package includes:
• Application Form
• Scholarship Certification Form
• Personal Statement (completed through the online application)
• Transcript
• Recommendation Letter from a teacher or faculty
• Resumé
APPLICATION INSTRUCTIONS
1. Complete the online scholarship application.
2. Print a copy of the Scholarship Application page, after you submit your application.
3. Download the Scholarship Certification Form from the AHETEMS Web site.
4. Mail the Scholarship Certification Form, Official Transcript, Personal Statement, Resume and Letter of Recommendation to AHETEMS postmarked by April 1. Mail applications to:
AHETEMS, Inc.
c/o: 2009-2010 Scholarship Program
University of Texas at Arlington, Box 19019
416 Yates Street, Room 609
Arlington, TX 76019-0019
DEADLINE: All application materials must be postmarked by April 1 No materials will be accepted by fax or email.
FAQs. Read the Frequently Asked Questions to learn more. If you still need assistance, please contact the AHETEMS Office. Phone: (817) 272-1116; Fax : (817) 272-2548; Email: ahetems@shpe.org
Filed under: Grades 9-12, K-12 Outreach Programs
Tags: Grade 12, Latino Students, Scholarship