Posted on
July 3rd, 2011
by Mary Lord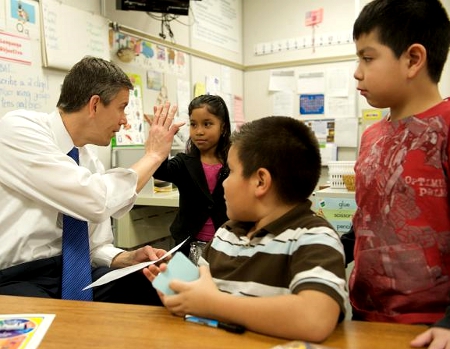 The Republican chairman of the House education committee outlined publicly for the first time a timetable for rewriting the sprawling No Child Left Behind school accountability law. Minnesota Rep. John Kline said he would move five bills to the House floor by year's end, the New York Times (6/24) reported.
Mr. Kline also said he would use the rewrite to rein in the education secretary's influence on U.S. schools. On Thursday, he sent a letter to Education Secretary Arne Duncan asking him to explain by July 1 the legal authority by which he could grant states waivers on meeting some of NCLB's most onerous provisions, as promised, if Congress failed to rewrite it. In a conference call with reporters, Mr. Kline criticized the administration's use of the $5 billion Race to the Top grant competition to get states to adopt its reform agenda. "He's not the nation's superintendent," he said.
Rather than overhauling the law in one comprehensive bill, as the Senate has been doing, the House education committee has opted to break the sweeping law into pieces. It recently moved a bill stripping several dozen federal educational programs from NCLB, and another tweaking its provisions on charter schools. A third bill, which would allow school districts new flexibility in how they spend federal education dollars, could be approved by the committee before Congress's summer break, Mr. Kline said.
The fourth and fifth bills — one outlining new federal teacher effectiveness requirements and another rewriting the law's school accountability provisions — will dominate the committee's fall agenda.
Experts say profound partisan disagreements between the House and Senate could make a single rewrite difficult. They also point to the difficulty of winning approval for a complex, comprehensive bill in a presidential election year.
Meanwhile, Arne Duncan has predicted that 80 percent of the nation's 100,000 public schools could be declared failing this fall if the law isn't rewritten. He promised earlier this month to use his executive powers to waive certain provisions if Congress doesn't act — but only for states that agree to embrace the education priorities outlined in the Race to the Top grant competition.
Filed under: K-12 Education News
Tags: Education Policy, Elementary and Secondary Education Act, ESEA, NCLB, No Child Left Behind, Public Policy, reauthorization, U. S. Department of Education