Posted on
June 19th, 2013
by Mary Lord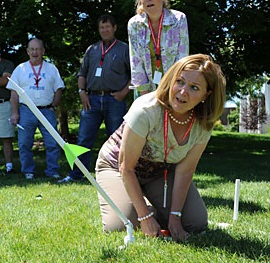 Become the "go-to Person" for engineering and technology instruction – or simply provide better guidance to your students interested in pursuing STEM majors and careers.
Widener University, in Chester, Pa., is offering a free, interactive Introduction to Engineering Workshop for high school teachers, guidance counselors, and administrators from July 30–Aug. 1, 2013.
The three-day program includes lodging in a modern dormitory with wifi Internet access, breakfasts, and lunches. In addition to doing fun hands-on activities such as a robotics lab and bottle rocket launch, teachers will have an opportunity to hear from a panel of practicing engineers and learn more about the engineering curriculum and profiles of prospective engineering undergraduates.
• Discover new projects, hands-on and virtual, to enhance your students' skills.
• Increase awareness of engineering as a career opportunity for your students.
• Understand the engineering curriculum and the profile of students who would be suited
for an engineering education
• Learn innovative ways to apply technology to your teaching
For more information, contact Kara Barnard at 610-499-4198 or klbarnard@mail.widener.edu or Rudy Treichel at 610-499-1294 or rjtreichel@widener.edu.
Teachers may receive up to 18 non-credit continuing education units.
Filed under: For Teachers, K-12 Outreach Programs, Web Resources
Tags: engineering workshop, Professional Development, Programs for Teachers, Summer Programs (Teachers), Teacher Resources, Widener University