Posted on
May 22nd, 2011
by Mary Lord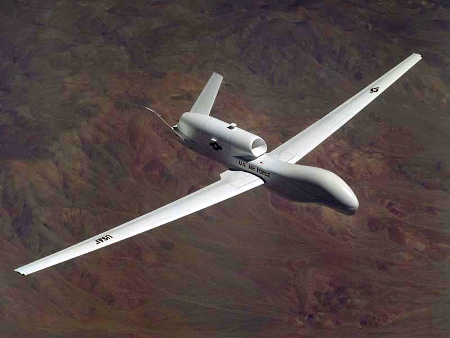 Northrop Grumman Globalhawk UAV
Ever since the Wright brothers ushered in the aerospace era a century ago, American engineering has ruled the skies. Now, a unique academic-industrial partnership aims to lift the country's future aviation expertise by building a high-school-to-career STEM pipeline focused on off-board pilot technology and autonomous flight.
Spearheaded by ASEE partner Northrop Grumman, Arizona's just-launched "innovation campus" envisions a seamless engineering pathway from Project Lead The Way at Buena High School in Sierra Vista through degree programs at nearby University of Arizona South (UAS). The pipeline includes an after-school "Running Start Academy" for STEM-oriented juniors and seniors at Cochise College, which has a strong avionics-technology program. It also runs to Defense Department-specific continuing education courses taught by UAS faculty at nearby Fort Huachuca.
Though still under development — a May 25 scholarship-awards ceremony marks the official kickoff — the innovation campus could make UAS and Sierra Vista a national model for connecting students with STEM-related majors and careers. Already, Northrop Grumman, particularly its Unmanned Systems Sustainment Center, and other partners have contributed to the concept's success. Ray Haynes, an ASEE board member involved in the project, noted that the May 25 launch includes the award of several scholarships to students, including an endowed award worth $30,000, and a fellowship that will allow a high school teacher to spend the summer working at Northrop Grumman. The ceremony is also due to include the signing of an agreement between Cochise College and the University of Arizona.
There are practical and economic reasons for developing a STEM education pipeline focused on pilot-less flight. Unmanned aircraft systems are less expensive and quicker to design, build, fly, and maintain than conventional aircraft systems, and can often be deployed for specific missions. U.S. companies have a 65 percent share of the global market for these unmanned systems, according to Aviation Week, and Northrop Grumman, which makes 14 unmanned aircraft systems for the Department of Defense, claims 28 percent of the domestic market for such products.
The innovation campus will help Northrop Grumman's local Unmanned Systems Sustainment Center keep up with the growing demand for engineers, technicians, and ground operators (formerly known as pilots). The center, with a 20-year history of manufacturing, testing, and maintaining the Hunter Unmanned Aircraft System, is rapidly becoming the company's "go-to" site for other unmanned aircraft system products and services.
Filed under: K-12 Education News
Tags: Aerospace, Curriculum